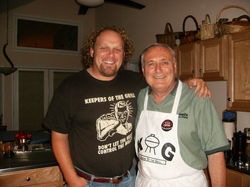 I got it from an ex-boyfriend and now it's my mission to give it to everyone as my own!
College Station, TX (Vocus) September 2, 2008
Americans are beginning to appreciate the great outdoors through increasingly sophisticated backyard kitchens, complete with stainless steel appliances, fireplaces, refrigerators, and gas grills. The Property and Environment Research Center reports that approximately 38% of Americans now have an outdoor kitchen. Outdoor kitchens enable elaborate entertaining, a creative use of space, tranquility, and a connection with nature. To visit the ultimate store for outdoor kitchens go to Randy Urner's Outside.
Encouraging this trend toward outdoor living is Keepers of the Grill, an online community for foodies who love outdoor cooking with family and friends. Keepers of the Grill or keepersofthegrill.com (KOG), as it has been affectionately dubbed by its members, offers memberships for an annual fee of $35. Membership includes access to exclusive grilling tips, tricks, and tools of the trade and a place where outdoor cooks can share their best recipes designed for the grill. Each month, KOG posts a free recipe from one of its members and offers an archive of exclusive recipes for its members.
The September recipe is Jalapeno Shrimp, and comes from Melissa of Virginia Beach, VA. Melissa says, "I got it from an ex-boyfriend and now it's my mission to give it to everyone as my own!"
Among the ingredients in Melissa's recipe are 1 lb jumbo shrimp, pickled jalapeno peppers, wood or metal skewers, squirt bottle filled with water, plus 2 secret ingredients.
Prep: 20-30 minutes / Grill time: 20-30 minutes / Serves 4
Directions: Preheat the grill. If using wooden skewers, soak in water at least 20 minutes. Devein the shrimp, then butterfly. Cut the jalapeno peppers into quarters, placing one quarter of the jalapeno inside the shrimp.
To continue reading this recipe, and for more delicious meal ideas, visit keepersofthegrill.com. Also available at keepersofthegrill.com is an array of premium KOG gear such as t-shirts, ball caps, slider beanies, cuffed beanies, and aprons at very affordable prices.
About Keepers of the Grill:
On a camping trip in 2002, Keepers of the Grill founder Johnny Ward discovered what it meant to be a true keeper. Challenged by a few well-meaning ladies who decided to claim the grill the guys had going, Ward and others politely reclaimed their grill and formed a coalition –– Keepers Of the Grill. "Their mission is to unite a global community of grillers who love food, family, friends, fellowship, and good ol' fun."
###