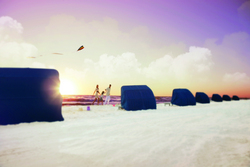 In celebration of the Reds' tenure on the Gulf Coast, many of Sarasota's local hotels, resorts and attractions are offering deals to spring training visitors
Sarasota, FL (PRWEB) September 3, 2008
Sarasota & Her Islands, known for sugar-white sand beaches, a wide range of cultural activities and overall culinary excellence, will be celebrating the final year of Beaches and Baseball during March 2009. The Cincinnati Reds of Major League Baseball, who have called Sarasota their spring training home for the past ten years, will be moving to Goodyear, AZ, beginning in 2010.
"In celebration of the Reds' tenure on the Gulf Coast, many of Sarasota's local hotels, resorts and attractions are offering deals to spring training visitors"

The Hotel Ranola, a short five minute drive from Ed Smith Stadium, has rooms starting at $179 per night. All accommodations are equipped with full kitchens and luxurious beds. The hotel is situated within walking distance from downtown Sarasota restaurants. For more information, please email info@hotelranola.com or call 1-866-951-0111.
The Best Western Ambassador Suites is located within two hours of 11 teams in the Grapefruit League. The Spring Fever Paradise Rate is $139.99 plus tax per night, and includes a single king or two queen beds. The hotel features 83 spacious suites, complimentary hot breakfast and a heated pool in the heart of Venice, FL. For more information, please call 1-800-780-7234 or visit http://www.bestwestern.com/ambassadorsuites.
Guests who book at the Holiday House of Venice during March or April 2009, and prepay by December 1, 2008, can secure a single standard room at the rate of $109.95 per night, plus tax. This deal must be booked at the hotel level, and is not available online. The regular seasonal rate is $159.95 per night, plus tax. For more information, please email sales@bsmmotel.com or call 1-800-237-3712.
Dining, Attractions and More

Harry's Continental Kitchen has served its classic cuisine to some of baseball's greatest players, including Barry Bonds, John Smoltz and Ken Griffey Jr., and its relaxed atmosphere is great for fans as well. This spring, guests who bring their baseball ticket stub will receive $10 off dinner for two at Harry's, either al fresco on the new outdoor patio or in the main dining room. For more information, please call 1-941-383-0777 or visit http://www.harryskitchen.com.
The John and Mable Ringling Museum of Art is hosting a wide range of exhibitions that coincide with spring training. These include:
o Janet Cardiff (January 31 - April 5, 2009)
o Triumph of Marriage (February 14 - April 19, 2009)
o Treasures Rediscovered: Chinese Stone Sculpture from the Sackler Collections at Columbia University (February 21 - May 3, 2009)
In addition to the exhibitions, Moving Ethos: A Contemporary Dance Company returns to the stage of the Historic Asolo Theater for three performances inspired by paintings and sculpture at the Ringling Museum of Art. Performances are at 8pm on Friday and 2pm and 8pm on Saturday, March 7-8, 2009. For more information, please contact the Historic Asolo Theater box office at 941-360-7399 or visit http://www.ringling.org.
Spring Festivals and Events
For spring travelers who plan to take a break from the ballpark, Sarasota & Her Islands offer a schedule of events that are suitable to any taste:

Sarasota Film Festival, taking place from March 27-April 5, 2009, is currently the fourth largest independent film festival in North America.
Sarasota Jazz Festival happens on March 15, 2009.
Sarasota Opera Festival kicks off its two month schedule on February 7 and runs until March 29, 2009, featuring an acclaimed production of Puccini's Tosca.
Sarasota WineFest & Auction is set for April 23-26 of 2009.
Sarasota and her string of eight islands are located along Southwest Florida's Gulf Coast between Tampa and Ft. Myers. Sarasota and Her Islands is comprised of Sarasota, Longboat Key, Lido Key, St. Armands Key, Manasota Key, Siesta Key, Casey Key, Englewood, Nokomis, North Port, Osprey and Venice. In addition to sandy beaches, Sarasota and Her Islands also offer numerous cultural and ecological attractions. For more information on saving and discovering in Sarasota, call the Sarasota Convention & Visitors Bureau at (800) 522-9799 or visit http://www.sarasotafl.org.
###