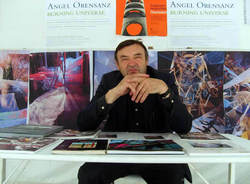 Paris, France (PRWEB) September 3, 2008
Angel Orensanz. An artist for the Human Rights.
Unesco recognizes the work of the Spanish/American artist for his efforts to defend the universal Human Rights.
As reported by Eduardo Cuna, Paris (France) for El Pais (Madrid, September 1, 2008) Spanish sculptor Angel Orensanz is participating in the commemoration of the 60th anniversary of the Universal Declaration of Human Rights signed in Paris. The French capital has become the center of this anniversary that will culminate in a gathering of 1,700 representatives of humanitarian organizations from all over the world during the first week of September.
Orensanz will be inducted at the Unesco as a member of the World Council of Peoples for the UN. The UN recognizes the work of the sculptor in his mission against massive displacements of populations during the Balkan wars; as well as his support of the Perestroika movement in Russia and to the antinuclear movement in the US. Orensanz was invited to the commemoration of the end of the II World War in Japan, and gave his support to the indigenous peoples movement in Latin America. During his lifelong dedication to the arts, Orensanz has stressed the independence of the arts vis a vis the commercial and state interests and has always advocated to involve art at all educational levels to expand the benefit of the arts as a measure of human progress.
###