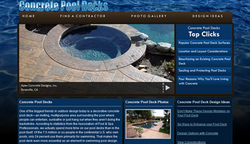 Yucaipa, CA (PRWEB) September 4, 2008
Recently launched, ConcretePoolDecks.org is a comprehensive website that has been designed to inform consumers on the many advantages associated with concrete pool decks and their decorative concrete options. Covering topics from popular surfaces and location tips, to design ideas and an extensive gallery of deck photos, the site's goal is to provide specific and detailed information for today's homeowner.
According to statistics from the Association of Pool & Spa Professionals, homeowners actually spend more time on their pool decks than in the pool itself. For this reason, ConcretePoolDecks.org was developed, to show that properly designed pool decks can offer many different uses.
Installing a new pool or planning to resurface an existing pool? This site educates consumers on the proper design considerations for creating a functional pool deck. It includes five common design mistakes to avoid, six ways to enhance a deck, available design options with concrete, a photo gallery offering design ideas and more.
Highlighting concrete as the material of choice, the site also focuses on popular concrete deck surfaces and the decorative applications available, like stamping, stenciling and coloring options. Concrete offers a whole host of benefits; the site covers four unique reasons why concrete can fit into any lifestyle.
ConcretePoolDecks.org also brings together consumers and local concrete contractors by pointing to a nationwide contractor directory. Consumers can use the site to learn about concrete decks, choose photos of designs they like, and then access the directory for contact information for concrete pool deck contractors in their local area.
Photos courtesy of Concrete Impressions LLC.
###