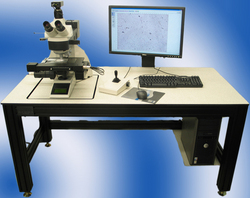 Simple mass only cleanliness analysis has helped improve cleanliness of parts; which in turn has helped increase reliability and longevity of Powertrain assemblies
Jackson, MI (Vocus) September 3, 2008
The IS0 16232 cleaning specification is rapidly gaining traction in the automotive industry. This new standard calls for any particles 5 microns or larger in size to be counted and catalogued during the testing phase. Measuring a particle at this size requires advanced technology that not all companies possess.
Midbrook, Inc. of Jackson, MI, has recently announced the availability of their Technology Center for ISO 16232 testing. With the procurement of a Filtrex Compound Microscope, Midbrook is now capable of testing particles even smaller than the ISO 16232 cleanliness standard.
The Filtrex Compound Microscope is one of the most powerful tools available for companies looking to test the cleanliness of their manufactured parts. With the ability to count particles as small as 2.5 microns, the Filtrex Compound Microscope exceeds the ISO 16232 cleanliness standards, allowing companies to test to their parts to unprecedented cleanliness levels.
ISO 16232 is not yet required by all automotive companies, but there is a push among suppliers to meet the specification. The specification has been developed over the past six years by European companies, and is now making its way to the United States as more international suppliers require their parts to meet this specification. As this movement picks up steam, there will be more and more companies looking to ensure that they can meet this cleanliness standard. Meeting the ISO 16232 standard will require testing, which not all companies are capable of. For many companies, the expense of testing parts for ISO 16232 will be prohibitive, meaning they need to look at alternative methods for ensuring their parts meet the specification.
The Midbrook Technology Center is designed to handle this testing. When parts arrive at Midbrook, they are taken to the Technology Center for testing. Jack Griffes, leader of the Midbrook Technology Center, uses the Filtrex Compound Microscope to examine the parts. In one week, the parts can be delivered to the Midbrook Technology Center, tested, and the results delivered to the customer. The Filtrex Compound Microscope is capable of automated particle counting, which ensures accurate testing on every sample that comes through the lab. With over 30 years experience in the part washing industry, Midbrook has seen a variety of changes in the way parts are tested for cleanliness and how those changes impact the wash process.
"Simple mass only cleanliness analysis has helped improve cleanliness of parts; which in turn has helped increase reliability and longevity of Powertrain assemblies," said Midbrook Technology Center director Jack Griffes.
"Taking the next step and counting and measuring every particle over 5 microns in size allows reliability oriented engineers to improve reliability and longevity even further by being able to work on diminishing particle counts in specified size ranges with direct correlation to a failure mode," adds Griffes.
The advanced technology of the Filtrex Compound Microscope allows for a high level of accuracy during the testing phase, which previous methods of cleanliness analysis could not match.
"The Filtrex Compound Microscope with encoded stage is extremely accurate – able to accurately measure down to 2.5 microns – the ISO 16232 spec requires measurement to 5 micron. The encoded stage also increases accuracy of the system via allowing the system to know exactly where it is at all times," said Griffes.
Midbrook expects to see a substantial increase in the amount of parts they test as ISO 16232 becomes more prevalent in the manufacturing arena. Testing is highly technical work, and it requires the equipment and personnel to implement it correctly. Not all companies will want to expend the capital or training time to set up their own testing laboratories, nor would it be cost effective for them to do in many cases.
"The ability to outsource highly technical work is an option Midbrook offers through this service," said Midbrook Sales Manager Jamie Crowley. "By outsourcing, the manufacturer can assure the cost and accuracy of this service is consistent from beginning of program to end of program, and they need not worry about updating and calibrating their equipment, or training new individuals after previously trained technicians leave the job."
# # #