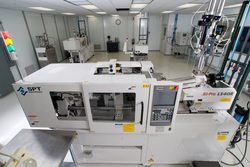 Together the clean-rooms span approximately 50,000 square feet
Butler, Wis. (PRWEB) September 4, 2008
MRPC, a single-source provider of medical device components and assemblies, has added a Class 10,000 and Class 100,000 clean room, and four new molding machines.
Along with the expansion, MRPC announced three new hires, including a new VP of engineering.
Growth leads to expanding capabilities
MRPC, http://www.mrpcorp.com, recently completed construction of two new clean-rooms for molding medical components. The expansion includes a Class 10,000 clean-room of approximately 2,000 square feet for molding implantable products, and a Class 100,000 clean-room of approximately 3,000 square feet.
"The addition of these new clean-rooms is part of a $2 million investment in our Butler, Wisconsin facility," said Greg Riemer, vice president of sales and marketing. "These investments will help increase our liquid silicone molding and thermoplastic molding capabilities."
MRPC now has a total of four clean-rooms for LSR molding, gum silicone molding, silicone extrusion, custom rubber molding, thermoplastic molding and secondary assemblies.
"Together the clean-rooms span approximately 50,000 square feet," Riemer said. "Pairing the increased size and capabilities of our clean-rooms with our deep engineering and manufacturing background will allow us to deliver a superior level and quality of service to our customers."
New clean rooms to house new machinery
The new clean rooms will house four new molding machines, in addition to existing equipment that has been moved to the rooms. Two 40 ton LIM machines for molding LSR (liquid silicone rubber), one 80 ton vertical LIM machine for over-molding LSR onto plastic or metal substrates and one thermoplastic injection molding machine for producing small to micro size implantable PEEK materials have been placed in the Class 100,00 and Class 10,000 clean rooms.
About MRPC
MRPC is a single-source provider of innovative medical device components and assemblies. Engineering and manufacturing capabilities in silicones, thermoplastics and customized elastomers allow us to produce components and assemblies that solve your toughest design challenges. Since 1921, MRPC has been helping customers compete in an ever-changing marketplace.
###