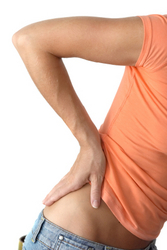 If that's the average weight of a purse, imagine the weight of briefcases, backpacks, tote bags, and the like!
Edison, NJ (PRWEB) September 3, 2008
Women, anatomically, are more prone than men to experience a urinary tract infection (UTI), yet their lifestyle habits, such as carrying heavy purses and wearing high heels, can actually increase this risk. Whether it is from fashion, exercise, or heavy lifting, an injured lower back (either the muscles or nerves or both) can increase the risk of a UTI.
"Back injuries can often disrupt or inhibit urine flow," says Larrian Gillespie, a retired urogynecologist and author of the book, You Don't Have to Live with Cystitis, The Groundbreaking Guide to the Prevention and Cure of One of Women's Most Stubborn Ailments (Quill, An Imprint of HarperCollins Publishers). "As a result, UTI-causing bacteria become trapped in the bladder causing a urinary tract infection."
UTIs are related to back problems by a few factors, explains Gillespie. The lower back has many fine nerves that can become strained from lifting something very heavy once, or something mildly heavy all of the time/daily, when exercising, from altered posture, etc. "The discs in the lower back can also become damaged, which can compress the nerves that signal the bladder to empty, causing disruption to urine flow," says Gillespie. Improper urine flow, she adds, keeps the bacteria in the bladder from being flushed out, which can result in a UTI.
Over-exerting oneself while exercising can also cause back strain. "Ensure the use of proper workout techniques by participating in aerobic activities that give you a natural, fluid motion, such as walking," Gillespie advises. "And use weight machines instead of free weights and ask gym personnel for guidance in showing you how to properly use the weight machines." She adds that if a person currently suffers from back injuries, swimming is ideal because it creates the least pressure on this area.
Gillespie also says to beware of your high-fashion accessories, such as ultra high heels and large, heavy pocketbooks and totes. "Women who repeatedly wear high-heeled shoes that are too high for their hip and leg structure can cause their pelvis to tilt forward, which takes their hips and spine out of alignment," she warns. By continuously wearing these high-heeled shoes or boots, they develop a "swayback," also known as lordosis, which is a painful condition that creates pressure on the nerves in the lower back. This pressure Gillespie says, contributes to inefficient urination, which is a precursor for urinary tract infections (UTIs).
In addition, carrying a heavy backpack or purse can contribute to the development of "lordosis." According to Time magazine's special Style issue, in 2007, the average weight of a woman's purse was 5.2 pounds. "If that's the average weight of a purse, imagine the weight of briefcases, backpacks, tote bags, and the like!" she says.
"There is an over-the-counter medication that women can take preventatively if they are prone to lower back problems that result in recurring UTIs," says Gillespie. "Cystex is a urinary medication that contains the natural antiseptic methenamine that helps stop bacteria from adhering to the walls of the urinary tract, thereby helping to prevent the infection from occurring in the first place." Cystex® also contains a reliable analgesic to stop the painful symptoms of a urinary tract infection while waiting to see a doctor.
To learn more about Cystex®, as well as other important information about urinary tract infection prevention and care, visit http://www.cystex.com. The site also houses the Ladies Room blog, as well as a partnership with the "Bathroom Diaries," which is a listing of reliable, clean public restrooms in various cities throughout the U.S.
###