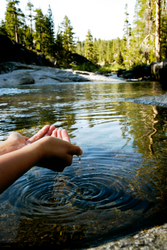 Many experts say that water is going to be the biggest environmental issue of this century but it still hasn't become a top priority of the green movement
Albuquerque, NM (PRWEB) September 5, 2008
Many businesses and homeowners are going green these days, but water conservation is one key aspect of sustainable building and living that is often forgotten. With severe droughts striking California and the Southeast and water shortages predicted in 36 states, there is no better time to begin conserving water.
The new Nuprana.com website makes it easy for green homes and businesses to include water conservation in their design. High-efficiency water conservation products are organized by bathroom, kitchen, garden and car wash, with estimates of how much water each product can save.
"Many experts say that water is going to be the biggest environmental issue of this century but it still hasn't become a top priority of the green movement," says Elizabeth Beachy, co-founder and owner of Nuprana. "We designed Nuprana.com as a comprehensive approach to water conservation. We want to raise awareness of the issues and encourage advocacy, but we also want to give people a tangible and immediate way to begin doing their part and start saving water."
In addition to offering a wide variety of water-saving products, Nuprana's site includes an extensive overview of water issues in the United States and worldwide, as well as tips on how to join ranks and advocate for legislation to protect our waterways and ensure our drinking water quality. The news section offers daily postings of water conservation news from around the country and beyond, to keep readers informed of water conservation trends.
If all U.S. households installed water-saving features, water use in the country would decrease by 30 percent, according to the EPA. This would translate into savings of around 5.4 billion gallons of water per day, or more than $4 billion per year. Trading in a 5.5 gallon-per-minute (gpm) showerhead for a high-efficiency 1.5 gpm showerhead, can save an average of 8,000 gallons of water per year, or 24,000 gallons per year in a four person household. Replacing a standard 2.2 gpm faucet aerator with a 0.5 gpm aerator can save up to 77 percent of the water commonly used in the bathroom sink. Toilet tank banks, fill cycle diverters, and adjustable toilet flappers are all cost-effective ($5.99 and under) ways of saving substantial amounts of water without having to replace an old toilet.
About Nuprana.com:
Nuprana.com is a family-owned, online green business dedicated to water conservation that offers affordable, user-friendly water conservation products for green homes and businesses, in addition to water conservation information, news and advocacy. It was founded by Elizabeth Beachy and Osvaldo Gomez with the vision of conscious water use, cleaner waterways, safe drinking water, and pristine freshwater sources preserved and revered for their natural beauty. The couple resides in Albuquerque, New Mexico. They started Nuprana after the birth of their son inspired them to help improve the world awaiting his generation.
Contact:
Elizabeth Beachy, co-owner and founder
Nuprana, LLC
505-890-3197
http://www.nuprana.com
###