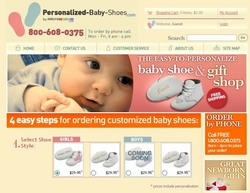 simpler than any other personalized baby product service on the web and can be completed in less than five minutes
New York, NY (PRWEB) September 3, 2008
That once-rampant mid-twentieth century craze for personalized products, from monogrammed golf balls to a crystal tankard etched with your own name, is coming back big-time. It's a hip transformation for an old-fashioned form of shopping that's only possible because of today's Internet. What bronzed baby shoes, a specifically American tradition, was to the families of late nineteenth century immigrants, laser-printed embossed baby shoes are to today's young, Internet-savvy parents.
No longer does the classy customization of gifts or personal keepsakes require some hard-to-find and expensive craftsman. Instead it can be ordered with the click of a mouse, and some cutting-edge Internet entrepreneurs are about to take this revival of an old fad to a whole new commercial level.
This week, MicroShops launches Personalized-Baby-Shoes.com, the first of many sites aimed at young parents and their friends offering personalized mementos which will arrive marked with baby's name. The site's four step ordering process is "simpler than any other personalized baby product service on the web and can be completed in less than five minutes," says MicroShops CEO Asi Erenberg. MicroShops' next customization site is BabyBlankets.com, which will offer personalized baby blankets and other custom gifts for parents and baby alike.
The power of customizing products with individuals' names has already been demonstrated by the spread of sites like The Personalization Mall, which claims to be "where America shops for personalized gifts." This virtual shopping mall comprises about 20 specialty stores, including ComputerGifts.com, Wedding-Presents.com, and in that throw-back again to the 1950's, GolferGift.com.
MicroShops' Personalized-Baby-Shoes.com takes the personalization business in an even more focused direction: the site features a preview function so that the customer can see their baby's name on the shoes they select before they buy. "We've tailored the customer experience to perfectly fit the product, name date baby shoes," Erenberg says. "Focusing in on a need as narrowly as possible makes the customer's experience much better. Personalized baby shoes and baby blankets are proof of this concept."
About MicroShops:
MicroShops is a New York-based company which develops sector-leading ecommerce websites in targeted product niches on the web. Using a one-of-a-kind process designed to maximize opportunities in the expanding online retail sector, MicroShops develops perfectly-suited niche stores in profitable markets, seeking the best possible customer experience. For more information, visit MicroShops.com.
###