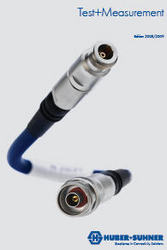 Essex Junction, VT (PRWEB) September 4, 2008
HUBER+SUHNER, Inc. announces the availability if its 2008/2009 Test and Measurement Catalog. It contains the latest products for RF performance, passive intermodulation, power, and EMC measurement. The product portfolio consists of test leads to 50GHz, adapters, attenuators, terminations, DC blocks, impedance matching pads, power dividers, diplexers, and couplers. Many of the 200 new recently released parts are included in this catalog.
The newly released products expand the product line to include attenuators to 300 W, new SMP and 2.4mm interfaces for terminations and attenuators, terminations to 100 W, directional and hybrid couplers from 800 - 2500 MHz, Diplexers for WiMAX and WLAN applications, as well as a new 2.5 GHz IM Standard. These new products expand the already broad HUBER+SUHNER product line of precision adapters and RF and microwave test cables.
For more information or to request you copy of the catalog visit http://www.hubersuhner.com/tm.
About HUBER+SUHNER:
HUBER+SUHNER is a leading global supplier of components and systems for electrical and optical connectivity. With global headquarters in Switzerland, it operates 17 subsidiaries and employs 3200 persons in all markets of the world and is represented by 100 agents and distributors in additional countries. The shares of HUBER+SUHNER are listed on the Swiss stock exchange (SWX Swiss Exchange) in Zurich.
###