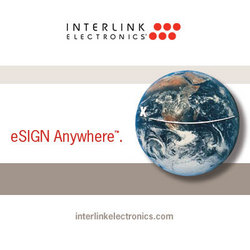 Interlink's ePad LS and IntegriSign software enable organizations to fully leverage their esignature investment by using the technology to drive revenues and cut costs
Camarillo, CA (PRWEB) September 3, 2008
One of the top health clubs in the United States has chosen Interlink Electronics, Inc. [OTC:LINK.PK] as its electronic signature technology provider. The chosen solution includes Interlink's IntegriSign esigning software and ePad LS, a multi-functional electronic signature capture device. New club members can now esign consent forms and contracts, as well as electronically enter additional data ― such as email and phone number ― with the ePad LS on-screen keyboard and PIN-pad. The 100 percent paperless transaction results in a more efficient and error-free process for both club members and staff.
"Interlink's ePad LS and IntegriSign software enable organizations to fully leverage their esignature investment by using the technology to drive revenues and cut costs," explains Rod Vesling, Senior Vice President, eTransactions with Interlink Electronics, Inc. "Organizations can cross-sell more effectively by presenting relevant products or services on the ePad LS's color LCD screen. They can also capture customer information electronically and eliminate the need to re-key information shared verbally or on paper."
About ePad LS:
The ePad LS is a full-color LCD, multi-functional electronic signature capture device ideal for customer-facing applications where full disclosure, data capture, and cross-selling is important. Key features and benefits of the ePad LS include:

Scrollable content enables customers to read through instructions, disclaimers, affirmation text, and more to ensure they make informed decisions before accepting or esigning.
New on-screen keyboard and PIN-pad features allow input of vital customer information such as user ID, phone number, or email address.
Full-color, targeted cross-marketing messages, ads, and special offers can be displayed at any time during the signing process to help capture additional business.
Check boxes, selectable options, response buttons, etc. make it easy for customers to follow the on-screen process.
As with all members of the ePad Family, ePad LS comes bundled with Interlink's IntegriSign Desktop esignature software.
About Interlink Electronics Inc.:
Interlink Electronics, Inc. [OTC:LINK.PK] provides the financial services industry as well as the healthcare and government sectors with the electronic signature platform needed to eliminate paper from critical business processes. Interlink's complete solution, which includes esignature software, hardware, and services, allows organizations to implement end-to-end electronic processes no matter where the signing takes place: in-branch, in-the-field, online, or mobile. Interlink Electronics is also known for its family of MicroNav products, powered by the company's patented Force Sensing Resistor (FSR) technology and integrated in handheld consumer electronics devices. Headquartered in Camarillo, California, Interlink Electronics, Inc. also has offices in Japan, Hong Kong, and China. http://www.interlinkelectronics.com/esign.
For additional information, please contact:
Nathalie Benoit
Interlink Electronics
805-279-2750
nbenoit @ interlinkelec.com
All registrations and trademarks are properties of their respective owners. IntegriSign is a registered trademark of Interlink Electronics, inc. This release contains forward-looking statements that involve a number of risks and uncertainties. The following are among the factors that could cause actual results to differ materially from the forward-looking statements: business conditions and growth in the electronics industry and general economies, both domestic and international; lower than expected customer orders; delays in receipt of orders or cancellation of orders; competitive factors, including increased competition, new product offerings by competitors and price pressures; the availability of third party parts and supplies at reasonable prices; changes in product mix; significant quarterly performance fluctuations due to the receipt of a significant portion of customer orders and product shipments in the last month of each quarter; problems or delays in reporting our results of operations to the public; and product shipment interruptions due to manufacturing problems. The forward-looking statements contained in this document regarding industry and review trends, industry product and technology acceptance, product mix and future business activities should be considered in light of these factors.
###