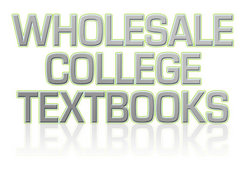 Nick and Sandra have both the business acumen and passion to take the company to another level of prosperity.
Jericho, NY (PRWEB) September 4, 2008
For a seasoned professional like Nick Themelis, acquiring a new business is not a challenge out of the ordinary. The former CIO of Lehman Brothers Asia and Barclays Capital Americas knows how to achieve results in the business world. Now, he sets his sights on helping students in a burgeoning industry. Themelis and his wife Sandra recently purchased the website http://www.wholesalecollegetextbooks.com in what might prove to be one of the most lucrative - and personally fulfilling - transactions of their lives.
This is a completely new endeavor for Themelis. In more ways than one, he sees it as an enriching opportunity. Both ecommerce and higher education are strong markets with unlimited potential for growth and development. Higher education continues to receive enhancements at the federal and state levels, and it has grown into a financially and culturally necessary entity.
Ecommerce seemingly has no limit, enjoying annually increased profits and continual expansion since its inception. Between rising gas prices and the abundance of new and returning students, Themelis saw a great deal of promise in the website that specializes in academic textbooks and decided to invest.
Under the day-to-day guidance of Sandra Themelis, Wholesale College Textbooks faces a bright future. "More and more people are pursuing higher education. Students are taking classes online, making tuition payments online, and they purchase supplies and textbooks online. I see this acquisition as not only an ecommerce business venture, but a way to help enthusiastic learners reach their academic and professional goals," Themelis said.
Sandra and Nick Themelis acquired Wholesale College Textbooks for an undisclosed amount from seasoned entrepreneur, Dominic Lee of Guillen Global. With the intent of tapping into the lucrative academic publishing industry, Themelis also aspires to help students save money on traditionally expensive textbooks. Armed with over a decade of experience as an executive among Fortune 100 companies, he offers the attributes of leadership, maturity and a deep understanding of successful business practices and theories.
Dominic Lee, who opened the company's doors to the academic publishing realm, stated, "Nick and Sandra have both the business acumen and passion to take the company to another level of prosperity."
With the acquisition of Wholesale College Textbooks, Themelis has taken an impressive first step in a new industry with a great deal of potential. Entrepreneurship promises both challenges and opportunities, but the ex-Fortune 100 guru comes to the table with a strong skill set to overcome obstacles and capitalize on opportunity. The company is dedicated to offering quality products and outstanding customer service to those who are embarking on fresh new journeys of their own in academia. For Themelis and thousands of college-bound customers, the best is yet to come.
For information: http://www.wholesalecollegetextbooks.com/ or
Contact: info @ wholesalecollegetextbooks.com
###