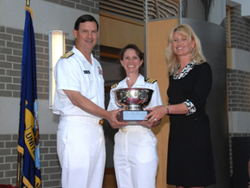 New Orleans, LA (PRWEB) September 3, 2008
NOVACES LLC, a premier implementer of today's most powerful process improvement methodologies, shared one of the many accolades bestowed during a June 17 presentation of the eighth annual NAVAIR Commander's National Awards.
The event took place in the Naval Air Systems Command headquarters at Patuxent River and honored hundreds of Naval Air Systems Command (NAVAIR) personnel. Awards were presented in five categories by Vice Adm. David Venlet who hosted the ceremony. "This is our mission," Venlet told the gathering. "Sailors and Marines armed with confidence because arming them is what we do. In their shadow, we provide warfighting capability and reliability, which allows our technical, business and leadership excellence to shine through them."
Among the honorees was the Maintenance and Supply Integration Performance Improvement Team who won the award for logistics and industrial operations. The team's mission is to transform the aviation maintenance and supply chain through the application of Continuous Process Improvement methodologies, specifically the integration of Theory of Constraints and Lean Six Sigma, in order to better support warfighter requirements.
The team trained and mentored more than 3,500 Fleet Sailors and Marines in continuous process improvement tools, institutionalizing business best practices and creating a culture of cost-wise readiness within the Fleet.
"This incredible effort was accomplished through an integrated effort of active duty Sailors and Marines, civilian personnel and our contractor partners, including AGI, DRC, NOVACES, General Dynamics, L3 Communications, Omnitech, and Bowhead," said Cmdr. K. D. Erb, Enterprise AIRSpeed Project Officer who accepted the award from Vice Adm. David Venlet on behalf of the team.
These accomplishments are the result of the deployment of Enterprise AIRSpeed throughout Navy and Marine Corps Fleet activities, and by leading the development of future capabilities with the Marine Aviation Logistics Support Program II (MALSPII).
###