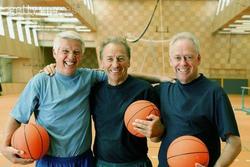 The NARA conference helps professionals get a quick handle on the demographic trends and the tips and techniques to approach the 50+ marketplace.
Charlotte, NC (PRWEB) September 5, 2008
Top national and regional experts will speak at the 9th Annual National Active Retirement Association (NARA) business conference to be held Oct. 1 - 3 at the oceanfront Hilton Myrtle Beach Resort and Conference Center in Myrtle Beach, SC. The NARA conference is one of the top national business conferences in America that focuses strictly on the fast-growing 50+ marketplace.
"As millions of Americans turn 60 each year, businesses, organizations and communities have a tremendous opportunity to capitalize on this trend," said NARA director Dan Owens. "The NARA conference helps professionals get a quick handle on the demographic trends and the tips and techniques to approach the 50+ marketplace."
Topics at the October event will include retirement housing, marketing and public relations, demographic trends, building, interiors and land planning trends, universal design, internet marketing and retiree attraction and relocation to communities.
A Few of the Featured Speakers:
*Richard "Dick" Ambrosius, Praxeis, Jacksonville, FL - 50+ marketer and aging expert. Proponent of positive aging. Read more about Dick at: http://www.positiveaging.com/about/testimonials.htm
*Geoff Meredith, Lifestage Matrix Marketing, LaFayette, CA - generational marketing expert. Author of books, including "Defining Markets, Defining Moments". Read more at: http://www.lifestagemarketing.com/
*Bob Koscso (Raleigh, NC) and Kirby LaForce (Charlotte, NC) - two highly successful former executives with Del Webb Corporation, the nation's top Active Adult developer, will discuss current Active Adult trends and how developers and communities should approach the 55+ marketplace.
In addition, Thomas, Warren + Associates of Phoenix, Arizona and Retirement Lifestyles magazine will host a retiree attraction training seminar on Oct. 1. Many states, including Tennessee, Georgia, North and South Carolina, Texas, Arkansas, Louisiana, Alabama and Mississippi are seeing a spike in retiree relocation. Studies have shown that a retiree couple can mean the economic equivalent of several manufacturing jobs to a town/city when they relocate.
"Many people and businesses have a singular view of aging boomers and 55+ folks as seniors in continuing care reitrement communities or assisted living communities with their AARP card," said Owens. "There is a new generation of aging boomers and empty nesters that is demanding new services, housing and a lifestyle their parents never dreamed of."
NARA will also present its annual NARA Awards to the best markeiting materals, housing projects and even the top sales and marketing professional.
Gold sponsors of the conference are The Erickson School (http://erickson.umbc.edu) and Retirement Lifestyles magazine (http://www.retiresouth.com).
Anyone interested in understanding and doing more business with the members of the Baby Boomer Age Wave - those affluent, fast-growing aging boomers that will ultimately be 78 million strong - should attend. To learn more about registration and sponsorship opportunities, call toll free (888)742-7362 or go to http://www.retirementlivingnews.com/.
###