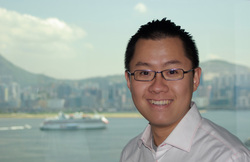 What the iProspect search engine marketing team in Hong Kong aims to do is to uphold and reinforce our standing commitment to hire great people, continuously refine our proven campaign management process as well as to spearhead the ongoing development of leading-edge technology in both PPC and SEO services.
(PRWEB) September 4, 2008
wwwins Consulting, a member of the Isobar digital agency network, is aggressively developing their iProspect search engine marketing practice in Hong Kong by the promotion of current Search Manager, Antony Yiu, to Search Director as well as the key appointment of Michael Pieper as Senior Search Analyst this week. The team, which has seen four new hires in the last five months, strengthens iProspect's search initiative in the Greater China and APAC region by broadening their search engine marketing offerings.
With his newly expanded role, Yiu will now be responsible for overseeing the search engine marketing team's capabilities as well as creating strategies and supervising the operation of integrated SEM campaigns including both pay per click advertising management (PPC) and organic search engine optimization (SEO).
Yiu says, "What the iProspect search engine marketing team in Hong Kong aims to do is to uphold and reinforce our standing commitment to hire great people, continuously refine our proven campaign management process as well as to spearhead the ongoing development of leading-edge technology in both PPC and SEO services."
Chris Ryan, Managing Director of wwwins Consulting Hong Kong says, "We are very excited to be working with such a well known search player as iProspect in expanding wwwins' SEM offerings here in the Greater China region as well as in Asia. With these new appointments we hope to better align ourselves with our vision of creating an all-encompassing digital marketing platform for our clients."
For further information contact:
Sarah Goh
Marketing & Communications Manager, wwwins Consulting Hong Kong
E: sarah.goh @ wwwins.com
O: +852 3962 4445
About full service digital marketing agency wwwins Consulting
Founded in 1999, wwwins Consulting, a leading full service digital marketing agency in the Greater China market, specializes in marrying technology with innovative marketing and business ideas. wwwins is the agency of choice for many blue-chip clients including Coca-Cola, Emirates, Northwest Airlines, Peninsula, HSBC, adidas, P&G, and Yahoo!. wwwins joined Isobar, the world's largest global network of digital marketing companies, in July 2004. wwwins is also a frequent winner of numerous industry awards all across Asia and the world, and has offices in Hong Kong, Shanghai, Beijing, and Taipei with over 270 digital specialists. The wwwins HK office was created with the acquisition of Ion Global, a power player in global web building sector, in September 2007. For more information, please visit http://www.wwwins.com
About search engine marketing firm iProspect
iProspect® is the Original® Search Engine Marketing Firm. The company helps many of the world's most successful brands maximize their online marketing ROI through natural ("organic") search engine optimization, paid inclusion management as a Yahoo! Search Submit Certified Ambassador, feed management, pay per click advertising management via their own patent-pending bid management agent called iSEBA™, and Web Analytics through their own SEM-configured version of WebTrends™. For more information, please visit http://www.iprospect.com.hk
About global digital agency network Isobar
Isobar launched on July 5th, 2004, providing alignment, integration, coordination and leverage of all digital assets within Aegis on a global, regional and a national basis. Isobar provides clients with a full service digital marketing offering through its global network of 104 offices in 38 markets worldwide. Isobar's media business currently has online billings in excess of $1 billion, employing over 3,605 staff worldwide. Isobar is a truly global digital communication network. Isobar was ranked number 1 digital network globally by Recma the French Media Industry evaluation company in 2007. (http://www.recma.com). Nigel Morris is the CEO of Isobar. For more information, please visit http://www.isobar.net
###