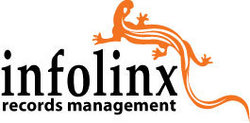 The Missouri installation is a representation of the best we have to offer
Kensington, MD (PRWEB) September 8, 2008
Infolinx System Solutions, a leading provider of enterprise physical records management software, announced the production installation of its industry leading physical records management application, Infolinx WEB, by the Missouri Records Management Division (MRMD).
"The Missouri installation is a representation of the best we have to offer" said Tim Butler, Infolinx Managing Director. "Coming on the heels of numerous previous municipal, county, and state records center installations, it packages all the essential features for physical records management into an intuitive, state-of-the-art, thin-client application."
With more than 175 state divisions participating in the eventual implementation, the enterprise solution includes the complete life-cycle management of both paper records and microfilm stored in multiple records centers as well as the state archives. More than a quarter million boxes and a quarter million rolls of microfilm, governed by more than 8,000 records retention series are being managed by Infolinx.
Records centers throughout the industry are realizing immediate return on investment as they migrate from antiquated, paper-intensive records management processes to contemporary online solutions. Essential features include space management across multiple facilities, integrated chargeback capability, dynamic and flexible security easily configurable for thousands of users, robust reporting, and extensive records disposition process support.
Having provided records management consultation and software services since 1987, Infolinx has extensive experience partnering with records centers to implement strategic and scalable records management solutions.
About Infolinx
Infolinx System Solutions is a leading provider of enterprise physical records management software, professional business services and information management consulting products to a broad range of commercial and government clients worldwide. Infolinx solutions and services manage critical business documents from point of creation through final disposition, offering customers reduced risk and improved operational efficiencies with a verifiable return on investment. Infolinx maintains clients within all major business segments and the public sector. Visit our website Infolinx for additional information.
# # #