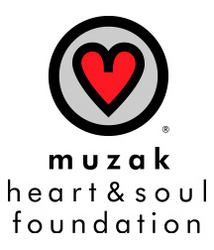 We received more than $10 in requests for every $1 we had to award
Charlotte, NC (Vocus) September 3, 2008
While nothing can silence some students' groans about the start of the school year, young musicians around the country have something to cheer about this fall. For the first time, the Muzak Heart & Soul Foundation has awarded grants totaling $84,000 to 23 initiatives aimed at increasing students' access to music education during and after school.
The grant program is called Music MattersTM, and in its first funding cycle, the Muzak Heart & Soul Foundation received more than 120 applications totaling almost $1 million in grant requests. "We received more than $10 in requests for every $1 we had to award," said Neely Vasher, business manager for the Muzak Heart & Soul Foundation. "This is a clear indication of the state of music education in our schools, and the desperate need for more resources to support music programs of all kinds," Vasher added.
Music MattersTM grants are designed to support band, orchestra, choral and other music education programs for students in kindergarten through twelfth grade. Highest consideration is given to those programs meeting one or more of the following needs: programs involving innovative educational reform; programs serving economically disadvantaged students; programs with established, collaborative partnerships with parent-teacher-student associations and other community groups; and programs in need of basic materials such as instruments and sheet music.
"Music education is more than just marching band practice and choir concerts. Music education teaches students to follow their dreams, with all the passion and discipline they need to succeed in any area of life," said Chuck McMichael, Percussion Director for Hutchinson High School. "Through our Drum Education Outreach program, future music teachers, high school percussionists, and young musicians in elementary and middle school will learn together about the rich traditions of drumming around the world. And because of this Music MattersTM grant support, they'll have more confidence and drive to pursue their goals throughout school and beyond," said McMichael.
Based on the overwhelming response to the first round of funding, the Muzak Heart & Soul Foundation will make a second round of funding available in early 2009. Applications will be available in November, 2008 with a submittal deadline of February 4, 2009. More information is available at http://www.heart.muzak.com or by calling (803) 396-3342.
The complete list of grantees includes:
Butte Middle School Arco, ID $5,000
Grangeville Schools Music Dept. Grangeville, ID $1,798
Crooke County Prineville, OR $5,000
Laguna Niguel Jr. Academy Laguna Niguel, CA $3,500
JP Widney High School Los Angeles, CA $5,048
Sunnyside High School Tucson, AZ $3,500
Hutchinson High School Hutchinson, KS $8,000
Butcher-Greene Elementary Grandview, MO $1,500
Carney Public School System Carney, OK $2,500
Lincoln Cultural Center Piano Lab Kankakee, IL $7,200
Delphi Community Schools Delphi, IN $1,800
Clay High School Portsmouth, OH $3,000
Huntland School Huntland, TN $4,000
Cypress Creek High School Orlando, FL $500
Southwest Florida Symphony Orchestra Fort Myers, FL $4,000
LaVoy Exceptional Center Tampa, FL $3,051
Olympia High School Orlando, FL $500
Rock Rest Elementary School Monroe, NC $4,000
Cyril B. Busbee Elementary School Wagener, SC $4,000
Monarch Elementary School Union, SC $3,878.90
Mount Union Elementary General Music Program Mount Union, PA $4,000
Truman School New Haven, CT $4,000
Fordson High School Dearborn, MI $4,000
About the Muzak Heart & Soul Foundation
The Muzak Heart & Soul Foundation was established in 1998 by Muzak, a leading provider of business music and other sensory branding services. Muzak believes in the power of music education to change lives. The Foundation's mission is to support and redefine music education. Heart & Soul helps students turn their passion for music into real world opportunities--by providing teens with new and exciting programs focused on all aspects of the music business. To learn more about the Muzak Heart & Soul Foundation, please visit http://www.heart.muzak.com.
About Muzak
As a leading provider of business music, Muzak creates experiences that reach more than 100 million people daily. Some of the biggest brands in business, from Ann Taylor to AT&T to McDonald's, work with Muzak to enhance their brand image in hundreds of thousands of client locations. Muzak creates a wide variety of core and custom music experiences for clients around the world. Muzak creates custom on-hold and in-store voice messages, and designs and installs professional sound systems, commercial television, drive-thru systems, digital signage, soundmasking systems and more through its national network of sales and service locations. For more information, visit http://www.muzak.com.
###