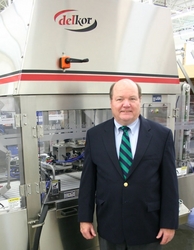 Ken will be invaluable in advancing Delkor branding, target market development, advanced product planning, and future industry growth
St. Paul, MN (PRWEB) September 5, 2008
Ken Sullivan has joined Delkor Systems Inc. as Director of Marketing. He will be responsible for developing and implementing marketing programs for the company's innovative end-of-line packaging systems.
"Ken will be invaluable in advancing Delkor branding, target market development, advanced product planning, and future industry growth," said Delkor president Dale Andersen in making the announcement. "We welcome the addition to our management staff of his experience and expertise in the marketing of equipment and technology."
Sullivan comes to Delkor with 20 years of managerial experience in the packaging industry, including marketing positions with Alloyd Brands, SIG International Technology and Videojet Systems.
Delkor Systems, Inc. is a leading North American manufacturer of end-of-line packaging systems, with innovative solutions to automatically form, load, inspect, wrap and seal end-of-line packaging trays, cartons and cases. Delkor designs practical solutions that enable customers to become lower-cost producers through the application of automation, robotics and other packaging line efficiencies. For more than 30 years, Delkor has provided high-quality, patented, innovative end-of-line packaging machines that deliver these benefits.
For further information about Delkor and its products, contact Ken Sullivan, Director of Marketing at ksullivan @ delkorsystems.com or call 763-746-1886. Visit the Delkor Systems web site at http://www.delkorsystems.com.
###