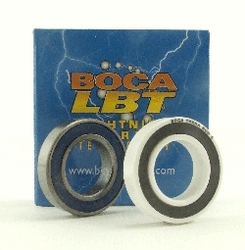 Delray Beach, FL (PRWEB) September 5, 2008
The Boca Bearing Company is proud to announce the new Boca Peeka Boo 5 series of Full Ceramic and Ceramic hybrid bike bearings. Boca Bearings continues to improve ceramic bearing technology for the precision demands of the competitive and consumer bicycle markets. Ceramic offers the absolute cutting edge in low resistance bearings and Boca Bearing's Peeka Boo 5 line has been painstakingly developed to outperform traditional bearings.
Boca Peeka Boo 5 Full Ceramics give competitive cyclists the absolute minimum amount of rolling resistance of any bearing on the market. Because ceramic is non-porous it is virtually frictionless when using both a ceramic race as well as ceramic balls. The Peeka Boo 5 Full Ceramics have Zirconia (ZrO2), ABEC 5 races and Silicon Nitride (Si3N4), grade 5 balls. The tighter tolerance allows the balls to travel the shortest path possible and the grade 5 balls are more spherically perfect than previously available. The retainer and seals have also been dramatically improved and are now made of a high strength Peek material.
The Boca Peeka Boo 5 Ceramic Hybrid series have received a face lift as well. The bearing races have been changed to ABEC 5, cryogenically hardened, 52100 chrome steel that are impregnated with Boca Bearing's exclusive Ultra Dry Lube (UDL) coating. The harder races greatly extend the life of the bearings and the UDL coating further reduces rolling resistance to half that of graphite. The Ceramic Hybrid balls are made of Silicon Nitride (Si3N4) and are a Grade 5 rating which results in a more spherically perfect ball, the retainers are made of a high strength Peek material and the seals are a heavy duty rubber seal.
The Boca Bearing Company has been an industry leader in ceramic bearing technology for over 15 years. The Boca Peeka Boo 5 series is the next evolution in the Lightning Bearing Technology (LBT) program of ceramic bearing products. Saving you energy one bearing at a time.
Contact: info@bocabearings.com
Webpage: Boca Peeka Boo 5 Ceramic Bicycle Bearings
High Res Download: Boca Peeka Boo 5 Ceramic Bike Bearings Photo
###