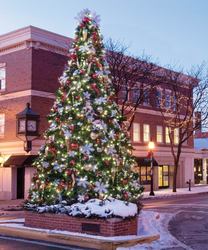 Alpharetta, GA (PRWEB) September 18, 2008
Alpharetta, Georgia-based Christmas Lights, Etc. (http://www.christmaslightsetc.com), one of the largest U.S. suppliers of premium Christmas trees, decorations and holiday lighting for homes, commercial decorators and businesses, was ranked No. 10 Top Consumer Products companies in Georgia and No. 136 nationwide according to Inc. Magazine's 27th Annual List of America's fastest growing privately-held companies. This year's honor marks the third consecutive year that the company has been recognized on the Inc. 5000 list with an average revenue growth of 117% over the last three years.
Recent growth at Christmas Lights, Etc. can be attributed to an increase in the commercial sales of its highly coveted, premium, large-scale Artificial Christmas Trees with natural looking branches and eco-friendly, energy efficient LED Lighting. Customers including The Walt Disney Company, Anheuser-Busch, Eastman Kodak and Six Flags have responded with custom orders for giant, low energy consumption Christmas Trees and Wreaths. And, this year has been no exception. Purchases so far this season include a 60' Giant Everest Pre-Lit LED Christmas Tree and a giant Christmas Wreath.
William Hale, President of Christmas Lights, Etc. noted, "Our founding commitment to quality products has always been a hallmark of our company and continues to be a real revenue driver for us year after year. High quality today isn't just about providing solid, beautifully realistic-looking Artificial Christmas Trees and Wreaths; it's also about promoting a quality environment and low energy costs for our customers. In a year when consumers are trying to cut costs and reduce their overall energy footprint, latest technology LED lighting enables Christmas Lights, Etc. customers to celebrate the holidays with the peace of mind of knowing that they're doing something right for their bottom line and their planet."
Environmentally conscious LED lighting reduces power consumption 80-90% over traditional incandescent lighting. As an example, the cost of lighting a 60' Giant Everest Artificial Christmas Tree over the holiday season is reduced from $138.70 to just $13.87 when using energy efficient LED lights. "Multiplied across hundreds, even thousands of similar trees across the country this season, the impact on the environment and the pocket book is significant. Being able to respond to our customers demands for quality, eco-friendly options, whether serving a family ordering a natural-looking, 7.5' TruTip™ LED lit Fraser Fir or a theme park ordering a 60' PreLit LED Christmas Tree, has been truly rewarding for me personally and equally rewarding for our business," said Mr. Hale.
Mr. Hale added, "The fact that Christmas Lights, Etc. a Christmas Lights, Tree and Ornaments company continues to grow despite a weak U.S. economy and serious energy concerns, is a testament to our nation's resilience and the fact that the Christmas spirit remains alive and well."
About Christmas Lights, Etc.
Christmas Lights, Etc. is a nationwide leading online retailer of premium Artificial Christmas Trees, Christmas Lights, Decorations, and Christmas Ornaments. Their products have been featured by the CBS Early Morning Show, Smart Money magazine, Wall Street Journal, and HGTV to name a few.
About Inc.com
For more than 27 years, the Inc. 5000 has served as a benchmark for the most innovative, dynamic and successful companies in the Nation. Inc.com, the daily resource for entrepreneurs, delivers how-to guides, advice, tools, breaking news, and rich multi-media to help business owners and CEOs start, run, and grow their businesses. Inc.com offers dynamic marketing solutions to help advertisers effectively reach Inc.com's audience of business leaders.
For more information about Christmas Lights, Etc., visit http://www.christmaslightsetc.com or call 866-962-7382.
Contact:
Aaron Hassen, 866-962-7382, Ext. 5016
Email: media(at)christmaslightsetc.com
###