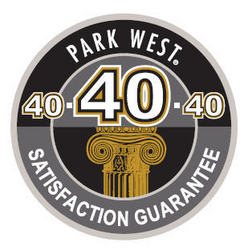 Our mission when we started 40 years ago was to bring the experience of researching, collecting and living with fine art to people who did not live in close proximity to the outstanding galleries, dealerships and auction houses of major markets like New York and Los Angeles
Southfield, MI (PRWEB) September 4, 2008
Park West Gallery®, entering its 40th year in business, today announced an enhanced customer satisfaction guarantee. The Michigan-based international art dealer's "40-40-40" policy guarantees the quality and authenticity of every work sold − as the company has done for 40 years − and offers clients the options of returning a work of art within 40 days of receipt for a refund of the purchase price, or exchanging the artwork for another in the Park West Gallery collection for up to 40 months.
"Since our founding in 1969, we've had the pleasure of introducing fine art to more than 1.2 million people through our galleries and land and sea auctions," said Albert Scaglione, Park West Gallery founder and chief executive officer. "Customers have always been able to purchase art and collectables with confidence at Park West Gallery, and our 40-40-40 customer satisfaction guarantee further demonstrates our commitment to making the ownership of fine art a lasting joy for our clients."
During September 2008, the new 40-40-40 policy will go into effect at Park West Gallery land-based auctions, as well as auctions at sea on cruises featuring Park West Gallery art, including Carnival Cruises, Disney Cruise Line, Oceania Cruises, Regent Seven Seas Cruises, and Royal Caribbean Cruise Line.
John Haffey, publisher of the art industry trade magazine Art World News, has praised Park West Gallery's 40-40-40 policy as, "the most customer-friendly guarantee in the auction world."
"Our mission when we started 40 years ago was to bring the experience of researching, collecting and living with fine art to people who did not live in close proximity to the outstanding galleries, dealerships and auction houses of major markets like New York and Los Angeles," said Scaglione. "I believe we have fulfilled that promise for so many years because of our expertise, passion for art and deep respect for our clients. The 40-40-40 guarantee builds on that tradition."
The Park West Gallery collection includes works by many of the most celebrated artists in history, as well as dozens of talented living artists from all over the world. "More than 90 percent of the works we sell are by artists our customers can directly interact with in our galleries and auction venues," said Scaglione. "Acquiring beautiful objects for your home created by talented people you actually meet and learn from is especially rewarding. We have thousands of clients who have told us these experiences are among the most enjoyable of their lives. That's the greatest compliment we can receive."
At Park West Gallery works by such renowned living artists as Peter Max, Romero Britto, Itzchak Tarkay, Thomas Kinkade, Alfred Gockel, Csaba Markus,Yaacov Agam, Marcus Glenn, and Dominic Pangborn are offered along side works by Picasso, Chagall, Dali, Rembrandt and Renoir and other great masters.
Under Park West Gallery's 40-40-40 policy, clients can obtain a refund within 40 days after receipt of the artwork. The refund will cover the full purchase price, less the buyer's premium up to a maximum of $1,000 per piece of art, and less any shipping costs if applicable. Clients can exchange any artwork purchased for any other artwork in the Park West Gallery collection of the same or greater price up to 40 months after the date of the invoice. Customers wishing to exchange items will be credited with the amount paid for the work purchased, including buyer's premium and excluding shipping and handling, with the only charges being shipping and handling and any price difference when the exchange is for a work of greater price. Exchanges must be made directly with Park West Gallery by phoning 1-877-440-0630 and are not allowed at auction. And Park West Gallery, as it has for 40 years, stands behind every work of art in its collection, guaranteeing its authenticity and quality.
The new customer satisfaction guarantee will be posted prominently at all Park West Gallery auctions and is presented on the company's website at http://www.parkwestgallery.com .
Selling approximately 300,000 works of art each year, Park West Gallery is one of the world's largest art dealers. The company conducts auctions across the United States, Canada and other locations worldwide, as well as at sea on 85 cruise ships around the world. The Park West Gallery collection includes oil and acrylic paintings, watercolors and drawings, hand-signed limited edition etchings, lithographs, serigraphs, and hand embellished graphic works, as well as animation art and selected sports memorabilia. The company's research and catalog departments are among the most respected in the world. In addition to Park West Gallery's 63,000 square foot headquarters gallery in Southfield, Michigan, the company operates a gallery, framing and distribution center in its 181,000 square foot facility in Miami Lakes, Florida.
###