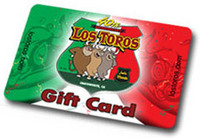 Perkins, OK (PRWEB) September 15, 2008
If your business typically offers gift cards during the holiday season, don't wait until the last minute to have your gift card printing done. The recent upsurge in popularity for these cards means the plastic card printing industry gets backed up early, which in turn means rush fees and additional charges--especially if businesses want to get them in stock within a decent time frame. Some manufacturers may even turn away orders altogether after a certain date. Consider using a service like CLS Plasticard®, which has a short run card division specifically for this purpose. Whether businesses order now or wait until the last minute, CLS Plasticard® will get their plastic cards out to clients in time to put in their customers' hands. Businesses will find cheaper prices and faster delivery times if they order sooner rather than later.
Gift cards have become the biggest thing to hit the holiday season since shopping online. It used to be that only bigger companies offered gift cards. But not anymore--customers expect small and large companies alike to carry them, and these businesses are more than happy to oblige. Why? Because everyone wins: the giver, the receiver, and, of course, you, the business.
It's a statistical fact that the gift-giving public is in love with these little plastic cards. Gift givers love them because they're easy to find, convenient, straightforward, and allow the recipient to choose what they want. It's very simple. That's exactly why recipients love them: they get to choose what they want. In fact, according to Stored Value Systems, 80% of American consumers said they would rather receive a gift card to their favorite retailer to any other gift.
So how does the business win? The first reason is that gift cards get customers through the door. Once there, it's likely that these customers will spend more than their gift card is worth--an easy upsell for the business. Furthermore, gift cards purchased for the holidays serve to extend the shopping season well into January and February, adding to business' bottom lines during these typically lean retail months.
Here's the part that every gift card-carrying business wants to hear. There's always the possibility that the card will become lost, stolen, forgotten about or expired. This equals 100% profit for the company that sold the card. This in turn amounts to a sizeable chunk of change. According to The Tower Group, unused or lost gift cards amounted to an estimated $7.8 billion last year.
The statistics don't stop there. The group also reported that last year's total gift card sales totaled $97 billion, up from $83 billion 2006. In addition, the average amount of each gift card was $53, up from $46 the previous year. The bottom line. Don't look for gift card growth to slow down anytime soon. If your business isn't taking advantage of these valuable plastic cards, the time to get started is now. CLS Plasticard® would be more than happy to walk you through the gift card printing process. But first, let's get acquainted with these handy plastic cards at a basic level.
How do gift cards fit into your particular business? Every case is different. Some companies use the gift card as a one-time promotional gift, while others prefer re-loadable cards in different amounts such as $25, $50 or $100. Either type can be produced with an expiration date, or a signature panel or numbering for customer identification purposes. They can also have a barcode or magnetic stripe programmed to work with your POS systems (credit card reader) software for tracking, re-loading and storing customer information (which can pulled up each time the card is swiped through the system.) It all depends on your specific needs and desires.
CLS Plasticard® prints its plastic cards in one to full color on both sides. We're more than happy to work with you in designing your card. After all, in essence, each card is a mini billboard for your business.
So don't wait! Get those orders in now--and reap the rewards this gift card season and beyond.
Click here to request a sample of custom laminated and plastic cards by CLS Plasticard®.
Link to cardjett.com:
http://www.cardjett.com/resources/links/SuperLink.asp
About CLS Plasticard®
CLS Plasticard® is a leading producer of plastic cards, gift card printing, loyalty cards membership cards, laminated cards and hotel key cards. CLS Plasticard® has been offering thermal, screen, lithograph, and laser-printed card solutions since 1999. http://www.cardjett.com
###