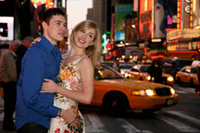 The pictures have the artistic style of postcards and high-end magazines, capturing natural smiles, laughs, and expressions with New York's legendary landmarks as a backdrop -- so they make a wonderful work of art for the home
New York (PRWEB) September 9, 2008
New York City Photoshoot provides a new way for people to experience New York - a photo shoot showcasing the city's famous landmarks. The concept is appealing: A professional photographer takes tourists on an exciting photo shoot around New York while capturing spectacular photographs of them at famous city locations such as Times Square, The Empire State Building, and Central Park.
New York City Photoshoot features three packages, which cover different terrain around New York. All the packages include a 2-hour photo shoot, a CD-ROM of more than 100 professional photographs and some complimentary 4 x 6 prints.
"The pictures have the artistic style of postcards and high-end magazines, capturing natural smiles, laughs, and expressions with New York's legendary landmarks as a backdrop -- so they make a wonderful work of art for the home," said company founder Hayley Morgenstern. "With so many things to do in New York, this is a great way for tourists to document their visit in a creative, attractive way they will be able to remember for a lifetime."
All packages cost $495 for up to two people, and family and group rates are also available. For visitors to New York, CDs and prints are delivered to their hotels before they leave the city -- when possible.
New York City Photoshoot was created by Morgenstern so that people visiting New York wouldn't have to rely on the shaky photography skills of a stranger they have handed their camera to, or an unflattering self-portrait taken at arms-length. Instead, tourists utilizing New York City Photoshoot would be able to have wonderful visual memories of their trip documented in a professional manner.
"The service is a great alternative to other New York tours, and visitors will hardly be able to contain their excitement when they show their stunning pictures to their family and friends," Morgenstern said. "They are also a unique idea for locals looking for something different to do and a great gift for birthdays, engagements, anniversaries and other special occasions."
For more information, check out the company's Web site at http://www.nycityphotoshoot.com or call 212-537-6135.
Contact:
Hayley Morgenstern
New York City Photoshoot
212-537-6135
e-mail info @ nycityphotoshoot.com
http://www.nycityphotoshoot.com
###