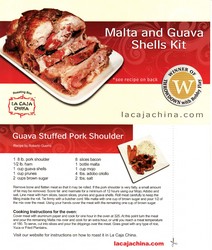 This is a personal recipe I created so everyone can enjoy the succulent tastes of well-prepared and cooked pork, even if you don't own a La Caja China cooker
Miami, Florida (Vocus) September 5, 2008
Roberto "Robert" Guerra, founder and president of L.C CH International, Inc., which manufactures and distributes La Caja China consumer and commercial pig roasting grills, has made public and is selling in kit-form on its Web site the recipe for pork that took down professional chef Bobby Flay in the chef's famed "Throwdown! with Bobby Flay" seen on the Food Network. A panel of judges unanimously chose Guerra's Malta Recipe over Flay's own recipe.
The Malta Recipe Kit includes: a bottle of Cuban style Mojo and a jar of Adobo to marinade the pork; a can of sweet guava shells; two bottles of malta to mix with brown sugar to smother the meat prior to cooking and after it has cooked; oven instructions; and a recipe card for filing.
"This is a personal recipe I created so everyone can enjoy the succulent tastes of well-prepared and cooked pork, even if you don't own a La Caja China cooker," said Guerra. "This malta recipe is what I used to beat Bobby Flay in his Throwdown! last year. It is dynamite in La Caja China, and what's really great is that it is delicious when the meat is cooked in a traditional oven, as well."
The La Caja China (pronounced: La Ka'ha Chee'na) pig roasting box cooks a whole pig perfectly with a crispy skin in under four hours every time. It takes the guesswork out of pig roasting, making it easy for anyone to roast a whole pig. They also come in a half-size roaster and a smaller turkey roaster that is ideal for roasting smaller cuts of meat, turkeys, chickens and wild game.
The Malta Recipe Kit comes with the recipe written out on the back, and calls for eight pounds of pork shoulder. Cooked in La Caja China, it takes about two and a half hours.
"When roasting a pig for a party, you have many other issues to deal with besides managing a finicky rotisserie or grill," Guerra said. "Because La Caja China is so simple to use and the results are perfect every time, you don't have to be a professional chef to present a perfectly roasted pig to your family and friends. The Malta recipe kit makes your efforts that much easier with guaranteed magnificently tasty results."
Unlike a traditional grill that cooks with direct flame, La Caja China's overhead heat source protects the integrity of the meat and the flavor of the marinade, and stimulates a steaming effect to keep the meat juicy. The pig emerges from the roasting box with crispy skin and deeply succulent meat. Whether roasting a pig at a Hawaiian luau, on the Ritz Carlton patio, or at a beachside resort, La Caja China prepares the meat deliciously every time.
La Caja China Malta Recipe $19.99. La Caja China pig roasters range from $239.00 to $349.00.
# # #