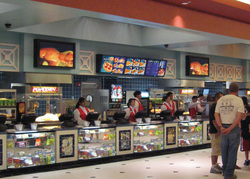 LCD for digital menu boards and one 50
Exton, PA (PRWEB) September 8, 2008
Scala, the leading provider of end-to-end solutions for the connected signage market, today announced Muvico Theaters connect their digital signage network to their POS system to drive the theater business.
Muvico currently operates 259 movie screens in 14 locations located in Florida, Maryland and Illinois. The company's theaters have developed a reputation as true entertainment destinations - attracting patrons from as far as 25-miles away. For the fiscal year ended 2006, Muvico had revenue of $125 million. Over 11 million people attended the Muvico theaters in 2006.
The company differentiates itself from competition by building architecturally "themed", state-of-the-art theaters and offering such amenities as expanded concession menus, VIP areas with full-service bars and restaurants, children's playrooms, reserved seating and Internet ticketing.
Muvico wanted to develop a menu solution that not only matched the "wow" factor of their facility, but one that could tie into their Point-of-Sales (POS) system allowing them to control pricing and promotions throughout the enterprise.
Muvico's challenge was to develop a menu board system that had just the right visual appeal, while also having the technical sophistication to incorporate the features they required and allow for company wide scalability.
Hammond Communications Group, a Scala Certified Partner, and strategic partner Schult Industries, created a solution that utilized three 42" LCD for digital menu boards and one 50" Plasma to deliver a multi-zone layout of messaging for the Appetite Appeal. Driven from dynamic sources, a single media player displays menu items, combos, animated specials and pricing for all concession items.
Working with Radiant Technologies, makers of the POS software used by Muvico, Hammond was able to create a custom application that mines data from their POS system to drive pricing and menu items based on real-time inventory levels and promotional strategies.
In addition, the local manager is given control to promote Appetite Appeal as needed. Changes to the content are provided by Hammond Communications and distributed throughout the network.
Muvico wanted to create a menu board system that enhanced the image of their theater environment. The system conceived through Hammond Communications Group met and exceeded their expectations. With dynamic digital menu boards, driven by the local POS system, Muvico can dynamically update their product offerings based upon the available product inventory levels and promotional strategies. Through the use of branded templates, local theater managers can now update their promotions and pricing based on local requirements while maintaining the corporate brand.
"Muvico is increasing the productivity of their digital signage network by connecting it to their POS system," says Dean Reverman, Director of Business Development for Hammond Communications Group. "This allows Muvico to update their product offerings, meet the demands of their customers and maintain their brand awareness."
About Hammond Communication Group
Hammond Communications Group has evolved into a full-service multimedia communications company, providing film production, video news releases, DVD presentations, 3D computer animation, virtual tours, web site development, interactive sales and marketing presentations, computer-based training applications and CD-ROM development. In order to provide clients with comprehensive visual services, HCG has an interformat on-line digital-editing suite, a non-linear Avid editing suite, a dedicated sound production studio, a fully functional drive-in studio, a full complement of web development platforms, and a 3D-computer animation department.
At Hammond, we believe good communications are vital to the client/vendor partnership. Key personnel are actively involved at each crucial stage - from budget considerations, through concept development, to delivery of the final product ad project maintenance when appropriate. More information is available at http://www.hammondcg.com .
About Scala
Scala is a leading global provider of digital signage and advertising management solutions. By combining digital and traditional signage systems, Scala has become the world's first connected signage company, offering the leading platform for content creation, management and distribution in digital signage networks, and the first unified platform for advertising management of both traditional and digital signage networks. The company's solutions are used in retail, education, entertainment, government and other industries for diverse applications such as retail advertising networks, corporate communications (employee TV), traditional and digital billboards, digital menu boards, digital posters, cable TV, hotel lobby signage, gas pump toppers, outdoor advertising, interactive kiosks, etc. Scala pioneered the digital signage industry and today drives over 200,000 screens worldwide; more screens than all competitors combined. The company's digital signage customers include Rabobank, IKEA, Burger King, T-Mobile, Virgin MegaStore, EuroDisney, McDonalds, Warner Brothers, The Life Channel, Rikstoto, FuelCast, Repsol, Shell, NorgesGruppen and thousands more. Advertising management customers include CBS Outdoor, Clear Channel Outdoor, Magic Media, Reagan, Adams Outdoor Advertising, among others. Scala is headquartered near Philadelphia, USA and has subsidiaries in Canada, Netherlands, France, Norway, Japan and also over 450 partners in more than 60 countries. More information is available at http://www.scala.com.
©2008 Scala, Inc. 350 Eagleview Blvd. Exton, PA 19341. Scala, InfoChannel, and the Exclamation Point Logo are registered trademarks of Scala, Inc. All other trademarks are the property of their respective organizations.
###