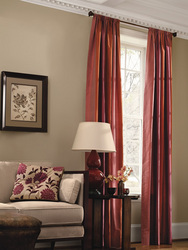 Custom pillows add that special touch and really pull your room together
Kennett Square, PA (Vocus) September 8, 2008
Design procrastinators can rejoice. A new 'quick ship' program for custom draperies, rods and pillows is now available from Calico Corners - Calico Home stores. In just two weeks, drapery panels are tailored to fit perfectly and shipped with selected hardware and coordinating pillows. Customers have their choice of more than 200 fabrics that were chosen for their fashion forward design, range of colors and interesting textures.
"Two weeks is about the time it takes to receive catalog or website ready-mades that come in limited fabrics, colors and sizes," says Jan Jessup, national spokesperson for Calico Corners. Jessup notes that these quick ship window panels are available in six top-selling styles and are finished to the homeowner's desired length, up to 144". "You'll end up with something that was made for your windows. They will fit perfectly," she states.
"The fabric choices are fabulous!" Jessup adds. "They were hand-selected by our buyers and are very current--luxurious striped silks, crisp linen solids, shimmering metallic blends, updated sheers, bold and colorful graphic prints and more."
Quality features
Customers will find that Calico Quick Ship draperies and curtains provide a much better quality product than most other sources--and at a competitive price. Price is not always an indication of quality: Williams Sonoma Home's $800 silk panels have a straight-stitched bottom hem. Restoration Hardware's $798 silk panels are not interlined. (All prices are for a pair of drapery panels.) In comparison, a two-width pair of Calico Quick Ship silk-pleated draperies at 250% fullness, interlined and lined, are $415. And these are made to order!
Most competitors offer only three or four styles, a very limited fabric selection, and only two or three width and length combinations per style. Calico Quick Ship offers 200+ fabrics made up in 1, 1½ or 2-width panels in lengths up to 144". And most competitors have a maximum of 200% fullness on any product (often less). Pleated draperies often have only two folds in the pleat, or an inverted box pleat with widely spaced pleats to give the appearance of fullness. Calico Quick Ship product has the same standard fullness and detailing as our full custom product.
"The pleats are deeper and more closely spaced for more fullness in the panel," notes Julie Morris, director of custom labor programs at the company's headquarters in Kennett Square, PA. "Patterns are matched at the seams. A custom panel has weighted double 4" hems and 1" to 1½" blind-stitched side hems so that it hangs beautifully and doesn't curl at the window," she explains. "There's simply no comparison with skimpy ready-mades."
If lined, 100% cotton deluxe lining fabric can be selected in white or ivory. Interlining is also available for protecting fine silks or to give any light to medium-weight fabric a more sumptuous look. "These are choices that you don't find in ready-mades, even from top home furnishings retailers," adds Morris.
What's behind the Quick Ship Program?
The Calico Quick Ship Program is great for customers who want a simplified design process, says Morris. "They still can get a unique look with true custom quality." But the big appeal is speed. "It's the closest you can get to instant gratification in home decorating, without having to settle for poor selection or quality."
To complete the look, nine designer pillow styles can be ordered in coordinating fabrics to ship with your draperies. "Custom pillows add that special touch and really pull your room together," adds Morris. There is also a choice of drapery rods and finials in a variety of different styles and finishes. And for those who don't want to handle window hardware, measuring and installation services are available.
"Quick Ship draperies are easier, faster window solutions. They're perfect for the customer who has in-laws coming to visit in three weeks, but has naked windows in the guest room," says Morris.
Celebrating its 60th anniversary in 2008, Calico Corners - Calico Home provides expert advice, decorating solutions and in-home design consultation in more than 100 stores
across the country. In addition, consumers will find designer fabrics for the home,
trims, custom window treatments, blinds, shades and custom upholstered furniture. Thousands of fabrics are now available online. For more information on Calico Corners - Calico Home products and services, or to find the nearest store location, visit http://www.CalicoCorners.com or call (800) 213-6366.
Contact:
Jan Jessup
(610) 444-9700, Ext. 262
[email protected]
###