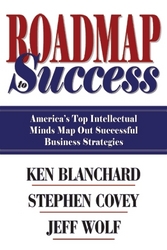 Only then will people be motivated and inspired to work as a team toward common goals.
San Diego, CA (PRWEB) September 16, 2008
To be successful in business it's best to have a plan or strategy to help guide you in transforming your existing situation into the promising future you envision. Roadmap to Success: America's Top Intellectual Minds Map Out Successful Business Strategies (Insight Publishing, 2008) is a practical tool for developing your business strategy. You'll learn key concepts and management essentials from three of the most successful business minds today: Jeff Wolf, Stephen Covey and Ken Blanchard.
In an age of unprecedented skepticism, how can corporate leaders gain the public's trust? What does it take for managers to become first-rate leaders in today's turbulent marketplace? How can leaders realistically conquer the most vexing challenges that confront them in our rapidly changing business environment?
These and other vital questions are examined in a unique question-and-answer format. Ken Blanchard (The One Minute Manager), Stephen Covey (The 7 Habits of Highly Effective People) and Jeff Wolf (The Essence of Effective Leadership, to be published in winter 2008) address the major concerns on managers' and leaders' minds, covering business strategy topics that range from the importance of listening and ongoing coaching to true definitions of success and survival in a multigenerational workplace.
"As a group, we wanted to tap into our specific areas of expertise and cut to the chase so readers can find pragmatic answers to their most pressing questions," says Wolf, president of Wolf Management Consultants, LLC, one of the country's most sought-after consulting, coaching and training firms. "Roadmap to Success serves as a mini-seminar. Like The One Minute Manager, it's easy to digest, yet readers will come away with business strategies that have the power to transform the way they operate in the workplace."
The book's premise for business strategy is straightforward: Without a basic plan or roadmap, leaders will never achieve their maximum potential or success. Business executives must learn to avoid the detours and dead ends that can sidetrack their goals, objectives and careers.
"For most people, it usually requires a crisis that humbles them to become aware of their ineffective behaviors," Covey says. "If there's not a crisis, the tendency is to perpetuate those behaviors and not change."
Roadmap to Success helps leaders avoid such crises by asking them to take an objective look at their business strategy and specifically their ingrained habits and ineffective workplace behaviors.
"No leader can succeed without a clear, compelling and inspiring vision, which must be communicated in a way that everyone understands," Wolf says. "Only then will people be motivated and inspired to work as a team toward common goals."
Roadmap to Success is available for $19.95 from Wolf Management Consultants. For additional information or to place an order, call (858) 638-8260. To view the book trailer, visit http://www.myspace.com/RoadmapToSuccess.
About Jeff Wolf
Jeff Wolf, known as one of America's most dynamic speakers, is considered one of the top executive business coaches in the country and is a highly sought after management consultant. He is president of Wolf Management Consultants, LLC, one of the most comprehensive consulting, coaching and training firms in the nation. For more information, please visit Wolf Management Consultants, LLC at http://www.WolfMotivation.com.
Note to Editors: Review copies and high-resolution digital art are available. Please call Jeff Wolf at (858) 638-8260.
###