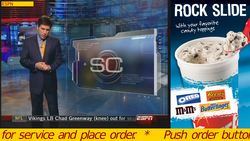 Customers experience their teenage years when restaurants like this were common.
Exton, PA (PRWEB) September 9, 2008
Scala, the leading provider of end-to-end solutions for the connected signage market, today announced Krystal Restaurants of Chattanooga, TN is delivering a unique customer experience at it 50's style drive-up restaurant.
Founded in 1932, The Krystal Company is the oldest quick service restaurant chain in the Southeast and the second oldest chain in the United States. Enjoyed by three generations of Americans, Krystal is a cultural icon. By delivering great food, quality service and fair value for 70 years, the Krystal brand has assumed a prominent place in the Southeast.
Krystal Restaurants, the fast food icon famous for the fresh, hot, small, square hamburgers craved by millions throughout the Southeast wanted to enhance their customer's dining experience.
The Krystal Restaurant located in Chattanooga, TN wanted to design their restaurant with a 50's traditional theme of drive-in eating with cars selecting meal choices from a menu available at the car location. The meal would then be delivered to the car by "car hops" and the customer would typically relax in their car and eat their meal or take it out.
While Krystal wanted to maintain this "retro" look and feel they also wanted to enhance the customer dining experience and introduce efficiencies of modern fast food restaurants. Krystal contacted the Hammond Communications Group who designed a unique digital menu board experience for Krystal's customers.
The Hammond Group, a Scala Certified Partner, created a solution that utilized a three-zone layout to narrowcast rich media (video, graphics and audio), a live TV signal and text crawl to multiple displays. Although the system included interior displays, it is the application for exterior signage that is truly unique.
Each car stall is equipped with a traditional backlit menu board with 32" LCD displays. Hammond customized the solution so that screen content is triggered upon the car's arrival and departure and controlled by the customer who can elect to scroll through a menu, watch TV and more.
Sensors in the parking stall detect when a car approaches triggering the digital menu board to activate the screen. The customer selects a meal of choice from the myriad of choices available on the digital menu board. The customer's order is dynamically sent to the restaurant where the order is prepared in the kitchen and "car hops" deliver it directly to the customer's car.
If the customer chooses to eat in the car, the digital menu board provides an entertainment option consisting of a live TV feed for the local Chattanooga area. Audio is piped into the car through a specific station on the car's FM radio.
The installation of the digital menu boards with digital meal ordering and live television feed is integral to the overall image of the restaurant. The solution allows Krystal Restaurant to maintain their "retro" look and feel while upgrading the customer dining experience to a modern fast food restaurant deliver process.
"Krystal Restaurants is reviving the 50's style drive-up restaurant experience while implementing state-of-the-art fast food process efficiency," says Dean Reverman, Director of Business Development for Hammond Communications Group. "Customers experience their teenage years when restaurants like this were common."
About Hammond Communication Group:
Hammond Communications Group has evolved into a full-service multimedia communications company, providing film production, video news releases, DVD presentations, 3D computer animation, virtual tours, web site development, interactive sales and marketing presentations, computer-based training applications and CD-ROM development. In order to provide clients with comprehensive visual services, HCG has an interformat on-line digital-editing suite, a non-linear Avid editing suite, a dedicated sound production studio, a fully functional drive-in studio, a full complement of web development platforms, and a 3D-computer animation department.
At Hammond, we believe good communications are vital to the client/vendor partnership. Key personnel are actively involved at each crucial stage - from budget considerations, through concept development, to delivery of the final product ad project maintenance when appropriate. More information is available at http://www.hammondcg.com.
About Scala:
Scala is a leading global provider of digital signage and advertising management solutions. By combining digital and traditional signage systems, Scala has become the world's first connected signage company, offering the leading platform for content creation, management and distribution in digital signage networks, and the first unified platform for advertising management of both traditional and digital signage networks. The company's solutions are used in retail, education, entertainment, government and other industries for diverse applications such as retail advertising networks, corporate communications (employee TV), traditional and digital billboards, digital menu boards, digital posters, cable TV, hotel lobby signage, gas pump toppers, outdoor advertising, interactive kiosks, etc. Scala pioneered the digital signage industry and today drives over 200,000 screens worldwide; more screens than all competitors combined. The company's digital signage customers include Rabobank, IKEA, Burger King, T-Mobile, Virgin MegaStore, EuroDisney, McDonalds, Warner Brothers, The Life Channel, Rikstoto, FuelCast, Repsol, Shell, NorgesGruppen and thousands more. Advertising management customers include CBS Outdoor, Clear Channel Outdoor, Magic Media, Reagan, Adams Outdoor Advertising, among others. Scala is headquartered near Philadelphia, USA and has subsidiaries in Canada, Netherlands, France, Norway, Japan and also over 450 partners in more than 60 countries. More information is available at http://www.scala.com.
©2008 Scala, Inc. 350 Eagleview Blvd. Exton, PA 19341. Scala, InfoChannel, and the Exclamation Point Logo are registered trademarks of Scala, Inc. All other trademarks are the property of their respective organizations.
###