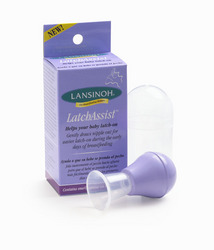 The LatchAssist gently draws temporarily flattened nipples out so baby can more easily latch on during the early days of breastfeeding.
Alexandria, VA (PRWEB) September 5, 2008
Recently released government studies show that more than 75 percent of mothers initiate breastfeeding in the early weeks after birth. However, in the early days, moms may experience engorgement or swollen breasts, a temporary condition that can make breastfeeding difficult or uncomfortable.
Breastfeeding: Overcoming Initial Challenges
"Breastfeeding while engorged can be difficult since the baby can have a hard time properly latching on due to flattened nipples, but don't let this discourage you," says Rubina Mason, international board-certified lactation consultant and member of the Lansinoh Laboratories breastfeeding advisory board. If your breasts do become engorged, nursing frequently is a great way to alleviate this condition. If you find that your baby cannot latch on because of your swollen breasts, taking warm to hot showers can also help soften your breasts, allowing you to breastfeed more comfortably.
"You can also use the new Lansinoh LatchAssist," advises Mason. "The LatchAssist gently draws temporarily flattened nipples out so baby can more easily latch on during the early days of breastfeeding." After nursing, use an ice pack to help keep the swelling down and relieve the pain.
It's also important to know that in the early weeks of breastfeeding, along with swelling and engorgement, your nipples can also be tender and sore. However, Mason adds, "Sore nipples are not inevitable during the early days of breastfeeding. Painful feedings are a signal that something is not right and you may need to make a change in your positioning or your baby's latch-on technique." In the meantime, if your nipples do become sore or cracked, Lansinoh® HPA® Lanolin can be applied to soothe, heal and protect the nipple skin. Lansinoh HPA Lanolin, the world's purest and safest lanolin, is virtually odorless and contains no preservatives, no additives, no water, no chemicals, and no perfume, and most importantly, it is safe for the baby and therefore does not need to be removed before breastfeeding.
"In the early days of breastfeeding, you'll have to keep working at getting your baby latched-on properly, even if it means gently taking the baby off the breast and starting over several times at the beginning of feedings," explains Mason. Breastfeeding is natural but it does not always come naturally. By trying to get the baby's latch perfected in the beginning of the process, mom can hopefully lessen any discomfort she may experience and have a rewarding and satisfying breastfeeding relationship with her baby.
Visit http://www.lansinoh.com for additional information about breastfeeding and the new and improved Lansinoh products.
# # #