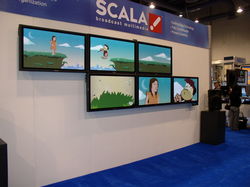 Scala has experienced many changes over the past year including the acquisition of MISC and the formation of our new Scala Connected Signage platform. The conference will serve to inform and prepare our Scala Certified Partners for an exciting year in 2009.
Exton, PA (PRWEB) September 5, 2008
Scala, the leading provider of end-to-end solutions for the connected signage market, today announced it will bring together Scala Certified Partners from the Americas for the annual Scala Connected Signage Conference (formerly Scala Partner Conference/MISA User Group Meeting) on September 15 - 16 at the DoubleTree Hotel in Philadelphia. The conference will take place immediately prior to the Digital Signage Expo East show at the Pennsylvania Convention Center September 17 - 18.
The Scala Connected Signage Conference is an educational forum for our Scala Certified Partners and customers to exchange ideas and network with industry leaders and peers from around the continent. Attendees from all backgrounds (sales, technical, marketing, etc.) will find the presentations and sessions valuable and the face-to-face time with Scala team members and partners even more valuable.
"This year we're reformatting the conference agenda a bit to ensure that our attendees get the most value out of the conference. We are offering more than 30 interactive sessions with tracks to suit everyone," says Kristin Belas, Marketing Communications Manager for Scala.
This year the conference will include sessions specific to Scala Ad Manager (formerly Charting Pro), a new product family that rounds out the Scala Connected Signage platform. Attendees will learn all about Ad Manager and how it completes the Connected Signage platform.
"This has been an exciting year for Scala in so many ways and we look forward to sharing that excitement with our partners and customers," says Andrea Waldin, Director of Marketing for Scala. "Scala has experienced many changes over the past year including the acquisition of MISC and the formation of our new Scala Connected Signage platform. The conference will serve to inform and prepare our Scala Certified Partners for an exciting year in 2009."
The conference will also host an industry partner exhibition area. Partners who have signed up to exhibit at the conference include:
-Avocent - Avocent (http://www.avocent.com) is a leading global provider of IT infrastructure management solutions for enterprise data centers, small/medium businesses and branch offices.
-Equus Computer Systems - Equus (http://www.equuscs.com) is one of America's largest manufacturers of build-to-order desktops, notebooks and servers.
-Matrox -- Matrox (http://www.matrox.com) has earned its reputation as industry leader and innovator in today's most state-of-the-art technologies, designing software and hardware solutions in the fields of Graphics, Video editing and Image processing.
-Magenta Research -- Magenta Research (http://www.magenta-research.com) is the industry-recognized leader in the adaptive distribution and switching of video/audio/control signals over CatX cable, DVI over fiber and/or Cat6 and more recently, HDMI over Cat6.
-MediaVue/SeaGate - MediaVue (http://www.mediavuesystems.com) designs and builds fanless and solid state PC's for digital signage and other demanding applications.
-AccuWeather -- AccuWeather, (http://www.accuweather.com) The World's Weather Authority®, presents accurate, localized, branded forecasts and severe weather bulletins to over 110 million Americans each day via the Internet, mobile devices and IPTV, through the airwaves, in print and on digital signage.
-Samsung Electronics Co. Ltd. -- Samsung Electronics Co., Ltd. (http://www.samsung.com/us) is a global leader in semiconductor, telecommunication, digital media and digital convergence technologies.
-LG Electronics -- LG Digital Display Company (http://www.lge.com) is the largest TV flat panel display manufacturer in the world, a leading producer of LCD and plasma TVs and one of the world's top plasma module makers.
-Wincomm -- Wincomm (http://www.wincomm.com.tw) provides competitive Digital Signage/Embedded PC products with best cost/performance, unmatched development speed, and excellent quality.
-Minicom Advanced Systems -- Minicom Advanced Systems (http://www.minicom.com) manufactures KVM solutions for the management of servers and computers that facilitate control of enterprise and corporate IT environments.
About Scala:
Scala is a leading global provider of digital signage and advertising management solutions. By combining digital and traditional signage systems, Scala has become the world's first connected signage company, offering the leading platform for content creation, management and distribution in digital signage networks, and the first unified platform for advertising management of both traditional and digital signage networks. The company's solutions are used in retail, education, entertainment, government and other industries for diverse applications such as retail advertising networks, corporate communications (employee TV), traditional and digital billboards, digital menu boards, digital posters, cable TV, hotel lobby signage, gas pump toppers, outdoor advertising, interactive kiosks, etc. Scala pioneered the digital signage industry and today drives over 200,000 screens worldwide; more screens than all competitors combined. The company's digital signage customers include Rabobank, IKEA, Burger King, T-Mobile, Virgin MegaStore, EuroDisney, McDonalds, Warner Brothers, The Life Channel, Rikstoto, FuelCast, Repsol, Shell, NorgesGruppen and thousands more. Advertising management customers include CBS Outdoor, Clear Channel Outdoor, Magic Media, Reagan, Adams Outdoor Advertising, among others. Scala is headquartered near Philadelphia, USA and has subsidiaries in Canada, Netherlands, France, Norway, Japan and also over 450 partners in more than 60 countries. More information is available at http://www.scala.com.
©2008 Scala, Inc. 350 Eagleview Blvd. Exton, PA 19341. Scala, InfoChannel, and the Exclamation Point Logo are registered trademarks of Scala, Inc. All other trademarks are the property of their respective organizations.
###