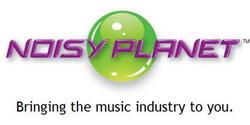 We believe that Noisy Planet and eSession.com are a perfect match because artists and bands can hire top musicians and engineers and produce their music using eSession's collaboration tools and then promote their finished material on Noisy Planet
Reno, NV (PRWEB) September 8, 2008
Indie music distributor, NoisyPlanet.net, and music collaboration portal, eSession.com, have teamed up to provide end-to-end solutions for indie music producers. Songwriters, artists and musicians can connect to produce new tunes at eSession.com and then promote the new releases to fans and industry contacts at NoisyPlanet.net within minutes of completing the final mix.
"Together, we help musicians collaborate, and then connect with fans and industry contacts," says Noisy Planet president Kevin Petersen about his company's recent collaboration with eSession.com.
Actually, there's a lot more to the Noisy Planet/eSession.com joint venture than that, but it's what the two companies are offering together that is so innovative and exciting. Using eSession.com's real-time web based music collaboration system, artists, bands, songwriters, musicians, labels, producers, and engineers can seamlessly work together without the current limitations of time, distance, travel, and cost. Noisy Planet's expertise kicks in when the artist wants to market the final music product and connect to fans with their easy to use Artist Control Room suite of tools.
Together, eSession.com and Noisy Planet bridge the gap between the creative process and the marketplace, Petersen says. For Petersen and eSession.com's Gina Fant-Saez, it's all about putting access and control back into the hands of the musician.
"We believe that Noisy Planet and eSession.com are a perfect match because artists and bands can hire top musicians and engineers and produce their music using eSession's collaboration tools and then promote their finished material on Noisy Planet," Gina says. "The combination of professional production and promotion gives artists the quality and visibility their music deserves."
For more information on the eSession/Noisy Planet venture, log on to http://www.noisyplanet.net/controlroom/controlroom.htm.
# # #