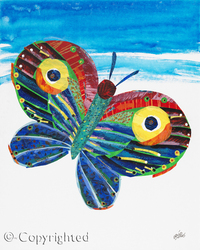 We are honored to be the recipients of the generosity of these revered artists
Amherst, MA (PRWEB) September 8, 2008
The Eric Carle Museum of Picture Book Art has launched its first ever online benefit auction featuring twenty-three original works of art created specifically for the third annual Carle Honors to raise awareness and support of the Museum. Works of art from artists such as Eric Carle, Ashley Bryan, Lois Ehlert, and Quentin Blake are just a few of the generous contributions to this major fundraising effort for the non-profit Museum, located in Amherst, Massachusetts. The auction will run online until Sunday, September 21 at 11:00 pm and culminate on-site at the event in NYC on Tuesday, September 23, 2008, where several of the contributing artists will be present. The Museum's Web site details auction and event information at http://www.carlemuseum.org/CarleHonors.
"We are honored to be the recipients of the generosity of these revered artists," states Museum Founding Director, Nick Clark. "Their contribution allows us to reach a global market in our fundraising efforts, by appealing to those collectors and art enthusiasts who otherwise may not know of The Carle or its mission, as well as those who believe in our aspirations."
Twenty-three inaugural Butterfly Donors have contributed original works to the Carle Honors Butterfly Auction with their interpretation of a butterfly, the resplendent culmination of one of Eric Carle's most beloved books and the icon of the Carle Honors. Each Butterfly Donor has an outstanding reputation in the field of picture book art and has played an early role at The Carle.
INCLUDED WORKS/LIST OF ARTISTS
The following artists' works are included in the auction: Quentin Blake, Ashley Bryan, Eric Carle, Etienne Delessert, Tomie dePaola, Tony DiTerlizzi, Jane Dyer, Lois Ehlert, Mordicai Gerstein, Kevin Henkes, Steven Kellogg, Hilary Knight, Petra Mathers, Wendell Minor, Barry Moser, Jerry Pinkney, Robert Sabuda, Brian Selznick, Melissa Sweet, Rosemary Wells, Mo Willems, Richard Yarde, and Paul O. Zelinsky. Works range in size from 6" x 6" to 29" x 23" (flat); in medium from pen and ink to watercolor to collage; and even to three dimensional and/or moving pieces. Eric Carle encouraged the exercise of full artistic license, so each work is indeed one-of-a-kind.
About Carle Honors:
The Carle Honors is a unique constellation of awards designed to recognize four distinct forms of creative vision and long-term dedication to the art of the picture book and its vital role in supporting art appreciation, early literacy, and critical thinking. The Carle Honors will be awarded at a special Benefit Gala at New York's University Club on Tuesday, September 23, 2008. The evening will begin with cocktails at 6:30 p.m., followed by dinner and the presentation of awards at 7:30 p.m. The event's 300 guests will include Museum founders Eric and Barbara Carle, Carle Honors recipients, Museum patrons and members of the Board of Trustees, luminaries from the field of children's illustrated literature, and representatives from early childhood education and advocacy and children's media.
The four categories acknowledge the pivotal contributions not only of the field's most innovative Artists, but also the equally significant work of the editors, designers, educators, and other Mentors who champion the art form; of the Angels whose generous financial support is crucial to making picture-book art exhibitions, education programs, and related projects a reality; and of the Bridges--individuals and organizations--that have found inspired ways to bring the art of the picture book to larger audiences through work in other fields.
This year's distinguished roster of Carle Honors recipients includes Maurice Sendak (Artist), Vanita and Jim Oelschlager (Angels), Susan Hirschman (Mentor), and Jim Trelease (Bridge). Each has had a tremendous impact on enriching the field of children's illustrated literature and expanding audience and support for the same.
For more information about the event, please contact Rebecca Goggins, Assistant Director of Development and Marketing, at (413) 658-1118 or visit http://www.carlemuseum.org/CarleHonors.
About The Museum:
Founded in part by Eric Carle, the renowned author and illustrator of more than 70 books, including the 1969 classic The Very Hungry Caterpillar, and his wife Barbara, The Eric Carle Museum of Picture Book Art is the first full-scale museum in this country devoted to national and international picture book art, conceived and built with the aim of celebrating the art that we are first exposed to as children. Through the exploration of images that are familiar and beloved, it is the Museum's goal to provide an enriching, dynamic, and supportive context for the development of literacy and to foster in visitors of all ages and backgrounds the confidence to appreciate and enjoy art of every kind.
The Museum -- which houses three galleries dedicated to rotating exhibitions of picture book art, a hands-on Art Studio, a Reading Library, an Auditorium, a popular Café, and a Museum Shop--is located at 125 West Bay Road, Amherst, MA. Museum hours are Tuesday through Friday 10 am to 4 pm, Saturday 10 am to 5 pm, and Sunday 12 noon to 5 pm. Admission is $7 for adults, $5 for children under 18, and $20 for a family of four. For further information and directions, call 413-658-1100 or visit the Museum's website at http://www.carlemuseum.org.
###