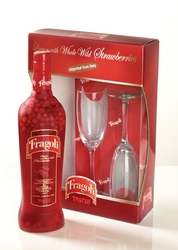 After we finish picking (the wild strawberries) we can't produce anymore.
Manhasset, NY (PRWEB) September 7, 2008
Now being served in many upscale dining establishments...This amazing wild strawberry liqueur is causing quite a stir!
Filling a glass with Fragoli is a unique experience that almost seems to defy the laws of physics. Each pour, whether the bottle's first or last, will release a nearly equal number of petite dark red strawberries that are somehow suspended in the vibrant red liquid. Just what enables the flavor -- packed fruit to swim gravity free throughout the bottle is a carefully guarded secret behind the alluring Italian liqueur that has now been introduced to the U.S. market.
Fragoli has been available in Europe for a handful of years, and made its U.S. debut in New York in November 2006. Toschi Vignola created Fragoli in partnership with Joseph Ballin, president of Classic Marketing Co. P.R. (the same partnership that yielded Nocello, the walnut liqueur that launched in 1983). "In many ways Fragoli is like a vintage wine," Ballin describes. "After we finish picking (the wild strawberries) we can't produce anymore." And to taste Fragoli is to love it.
"We have been shocked by the popularity of Fragoli, particularly since we are competing with brands that have $50 million marketing campaigns," Ballin states.
The product could not have hit the market at a better time. In a recent scientific study, researchers found that the addition of ethanol -- the type of alcohol found in most spirits -- boosts the antioxidant nutrients in strawberries and blackberries. Coincidentally, this news speaks directly to Fragoli's target consumer. "We designed Fragoli's market approach with a very specific consumer in mind: women," Toschi says. "The beautiful people and certain pockets of high-society adopted it immediately which has led to its fast success."
Fragoli is a liqueur with real wild forest hand picked strawberries in every bottle. Un-cork the top and the nose is pure strawberry and the taste is the essence of strawberry distilled. A well balanced combination of alcohol and fruit that is just right in terms of sweetness and fruitiness. Excellent for mixed drinks -- sparkling wine, vodka, dry vermouth are all great mixers, or as base for a strawberry Mojito and desserts. It's a magnificent topping for cheesecake or ice cream.
Passion is a must try -- Fragoli's signature cocktail.
A blend of 1 oz. Fragoli and 4 oz. Prosecco.
The final taste of the whole wild strawberries makes for an exquisite fruity treat.
The combination is such a natural that this holiday season, a limited number of bottles will be packaged with Champagne flutes. The way the berries dance in the glass with the bubbles, combined with its bright and festive color makes the cocktail an ideal wedding pour or celebratory toast for any occasion.
Fragoli.biz was created to provide the consumer access to a nationwide retailer search by zip code where Fragoli may be purchased.
The search also includes access to the retailer's website and directions to store location.
Contact:
Joey Ballin
516-487-0119
jballin @ classicmarketingco.com
###