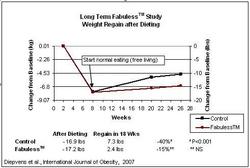 Behavioral changes like getting portions under control, eating healthier and exercising, are vital for long term weight management
Wayne, NJ (PRWEB) September 12, 2008
Slim Shots, the new liquid dietary supplement for appetite suppression and portion control, revealed today that its product's active ingredient, FabulessTM, has been clinically shown to deter weight regain and may potentially halt yo-yo dieting. Published in the International Journal of Obesity, the 26 week study* demonstrated that subjects using the active ingredient in Slim Shots, Fabuless™, experienced significantly less weight regain than the study's control group, 2.4 lbs. versus 7.3 lbs. respectively.
Yo-yo dieting, the repeated loss and regain of body weight, has been shown to be detrimental to health. In a study conducted by Seattle's Fred Hutchinson Cancer Research Center and published in the Journal of the American Dietetic Association, women with more then 5 major phases of losing and regaining weight had roughly one-third less "natural killer cell" (NK cell) activity than women who maintained a steady weight. According to researchers, the decreased NK cell activity is indicative of a weakened immune system and linked to a greater susceptibility to colds and infections as well as an increased chance of developing cancer. The study is the first to indicate that "yo-yo dieting" may be negatively impacting the overall health of the immune system.
"Behavioral changes like getting portions under control, eating healthier and exercising, are vital for long term weight management," said Ron Boger, executive vice president of Ideavillage Products Corp, the distributor of Slim Shots dietary supplement. "What's great about this study is that it shows Slim Shots not only helps you with portion control, it helps with long-term weight management."
For more information on Slim Shots, visit http://www.slimshots.com
# # #