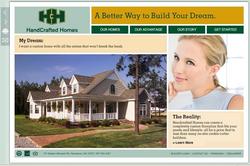 We wanted to make sure that these materials reflect what HandCrafted Homes is about - exceptional quality, eco-friendliness, approachability, and service
Henderson, NC (PRWEB) September 9, 2008
HandCrafted Homes, a leading provider of custom systems built homes, has announced the launch of their new plan book and website. "We wanted to make sure that these materials reflect what HandCrafted Homes is about - exceptional quality, eco-friendliness, approachability, and service," says Bill Murray, General Manager of HandCrafted Homes. "Now both the website and the plan book do a great job of showcasing not only our products, but also our continued focus on meeting customer needs through unparalleled design customization. That is truly what sets us apart from our competitors."
The HandCrafted Homes plan book showcases over 150 pages of color renderings, floor plans and design galleries. The plan book also features an overview of the modular (systems built) building process and eco/efficiency -benefits derived from their building methods. This book is an invaluable consumer resource for anyone considering building a home.
The plan book is complemented by the website, typically the first introduction a consumer has with the company. The HandCrafted Homes site provides users with an interactive design gallery, including information on HandCrafted Homes' affiliation with renowned designer William E. Poole, whose designs are featured in their Getaways and Dream Homes plans (recently featured in Better Homes & Gardens New Home issue). Testimonials, building tips and information, floor plans, a builder locator and much more, round out the user-friendliness and value of their site.
"We feel these new materials help to introduce consumers to the ultimate in inspirational home planning ideas," says Murray. "We know that consumers want a way to capture both current trends and classic beauty, while keeping time, cost and environmental impact to a minimum. That's what we do."
Headquartered in Henderson, NC, HandCrafted Homes' builder network spans from Georgia to Delaware. The company builds single family homes and multi-family construction alike. Named as one of Builder Magazine's Top 20 Modular Builders in 2006, HandCrafted Homes has consistently set the standard in the customized niche of system built home market by providing builders with superior customer service, state-of-the-art modular technology and unique home designs. Established in 1998, HandCrafted Homes is a wholly owned subsidiary of HHHunt, a major residential and commercial real estate developer. For over three decades, HHHUNT has been a recognized leader in real estate development throughout Maryland, Virginia, North Carolina, Tennessee and South Carolina.
For more information about HandCrafted Homes, or to purchase a plan book, call toll-free at (877) 424-4321, email info @ HandCraftedHomes.com, or visit online at http://www.HandCraftedHomes.com. For more information on William E. Poole Designs, visit http://www.WilliamPooleDesigns.com.
###