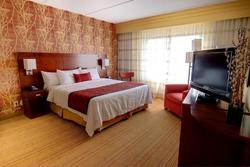 Our partnership with Marriott has lead LTD to many great deals and properties, but the new Courtyard Newport News Airport may be the most exciting yet
Chesapeake, VA (PRWEB) September 8, 2008
On Saturday, September 6, 2008, LTD Management Company, LLC opened the world's first newly built Courtyard by Marriott, rolling out a revamped lobby, room design and exterior look, in Newport News, VA. The 120-room Courtyard by Marriott Newport News Airport, located at 530 St. Johns Road, is owned and managed by LTD Management Company, LLC, which now operates 13 Marriott properties with four more to be completed by 2011. Adjacent to the new Courtyard is a Residence Inn by Marriott, which LTD will open in the next 30 days.
Courtyard by Marriott was the first lodging brand exclusively designed for business travel by business travelers. All previous Courtyards with the new design have been renovations. The brand expects to introduce the new lobby concept at 12 hotels this year and at as many as 100 hotels in 2009.
"Our partnership with Marriott has lead LTD to many great deals and properties, but the new Courtyard Newport News Airport may be the most exciting yet," said Dilip Desai, Senior Managing Partner for LTD. "We're honored to be the first new build to rollout this extraordinary brand makeover."
"On the milestone of the 25th anniversary of the brand, we're excited that this redesigned Courtyard is opening in Newport News. It is truly a brand new stay," said Brian King, vice president, Global Brand Manager, Courtyard by Marriott. "We redefined the Courtyard lobby so it invites guests to get out of their rooms to work, socialize, or for entertainment, whether traveling alone or with colleagues."
The Courtyard by Marriott Newport News Airport offers 967 square feet of meeting space and complimentary wireless Internet in all guest rooms and throughout the hotel. With four types of spacious rooms and suites, ergonomic guest chairs and a business center, the hotel caters to guests best interests.
Located in the heart of the Hampton Roads, approximately two miles from the Newport News Williamsburg International Airport and centrally located just miles from Historic Williamsburg, Norfolk and Virginia Beach. The Courtyard by Marriott Newport News Airport offers guests convenient access to many of Virginia's historic sites and military installations throughout the region.
"LTD is delighted to have this new Courtyard in our portfolio of top-quality hotels," added Malay Thakkar, Managing Partner for LTD. "This custom design is a true showcase of the brand's reinvented Bistro lobby."
LTD MANAGEMENT COMPANY, L.L.C., is an award-winning hotel development and management group headquartered in Chesapeake, VA. Since its inception in 1983, LTD has developed a reputation for creating an atmosphere "where distinction reigns." The company currently operates 22 properties throughout Virginia and Maryland, with 11 more hotels in the development pipeline and scheduled to open within the next two years. At the 2007 Marriott Owners Conference, LTD walked away with the Spirit to Serve and Partnership Circle awards, competing with 400 top hotel management companies for these distinctions. With the highest possible standards in mind, LTD prides itself with developing quality hotels under the franchise brands of Starwood, Marriott, Hilton and InterContinental. For more information, please visit http://www.ltdmanagement.com
###