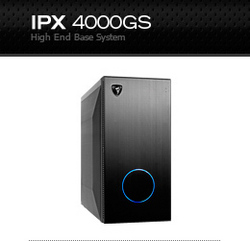 Dallas, TX (PRWEB) September 9, 2008
Infamous Platforms™ (http://www.infamousplatforms.com), a division of M&A Technology, announced today their lineup of high performance personal computer systems that will effortlessly run today's most demanding video games and media applications.
At the top of its current PC lineup is the Infamous Platforms Extreme 5000 GranTechnology or IPX 5000GT. This high-powered rig features bleeding-edge technology, including Intel® Core™2 Extreme Processor, 3-way SLI using NVIDIA® GeForce® GTX 280 GPUs, up to 8 GB Kingston Hyper X DDR3 memory, solid-state drives, Blu-Ray optical drives, and much more. Imagine entering an automotive race where your competitors are driving four-cylinder automatics and you are driving a Formula One car… that is the feeling you'll get when booting up your IPX 5000GT. The IPX 5000GT is the ultimate adrenaline rush experience for hardcore gamers!
Infamous Platforms designed the Infamous Platforms Extreme 4000 Gaming System (or IPX 4000GS) to satisfy the need for high performance quad core systems. This build offers Intel® Core™2 Quad processing power with a price that allows you to purchase that 24" monitor you've always wanted. Along with Quad Core, you receive an arsenal of firepower options that will satisfy the most demanding gamers.
The IPX 2000 is the first of the Infamous Platforms series to include a 9000 series NVIDIA GPU as standard equipment. This platform also utilizes Dual Core possessing and is able to pump larger amounts of frames per second by increasing the memory speeds and size, processing clock rate and GPU power.
When developing the IPX1000, Infamous Platforms took into consideration the gamer that desires a high performance PC, but isn't interested in spending over $1,000. This system utilizes Dual Core processing as standard equipment, along with Hyper X memory and an 8000 series NVIDIA GPU. The IPX 1000 marks the crossroad of performance and value.
All Infamous Platforms systems are offered with one-year warranties and lifetime phone support for absolute peace of mind at the center of their thrilling exhilaration.
Come explore the new infamous revolution at our website: http://www.infamousplatforms.com
About M&A
M&A Technology started in 1984 as a technology solution provider for education. Since then it has grown into other markets such as OEM, Commercial, and High Performance Computing. The company's success can be attributed to its commitment to customer service and continued innovation. M&A Super Computers can be found in the Top 500 fastest supercomputers list at http://www.top500.org
Contact:
Sina Azmoudeh
[email protected]
M&A Technology
2045 Chenault Drive
Carrollton, TX 75006
Toll Free 800-225-1452
# # #