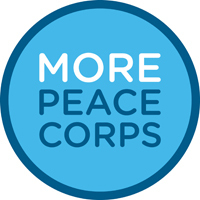 America and the world face major challenges due to growing demand for energy and food supplies, and from dislocations caused by climate change, failed states and ethnic conflicts
Washington, DC (PRWEB) September 5, 2008
Returned Peace Corps volunteers in all 50 states will hold more than 100 house parties this Saturday, launching a major grassroots effort to double the Peace Corps and support expanding national service opportunities for all Americans. The parties will raise funds and recruit activists to support the newly launched campaign, MorePeaceCorps, a nationwide effort to increase the size and improve the impact of the Peace Corps at home and around the globe. MorePeaceCorps is a project of the National Peace Corps Association (NPCA), a nonprofit community of 90,000 former volunteers and supporters, working with affiliate groups and local chapters around the country.
"The Peace Corps, more than any other American international initiative, is a symbol of this country's idealism," said Rajeev Goyal, who served as a Peace Corps Volunteer in Nepal and coordinates MorePeaceCorps for the NPCA. "The prestige and objectives of the agency - which continue to be viewed positively at home and abroad - uniquely position it to help people in need of assistance."
On Saturday, September 6th, MorePeaceCorps, working with its network of local returned Peace Corps Volunteer (RPCV) groups, will hold more than 100 house parties in the United States, as well as 15 parties overseas, to demonstrate support for a larger, more nimble and bolder Peace Corps. The house parties will raise funds to support the campaign as well as energize the RPCV networks in every state. More than 190,000 Americans have served in the Peace Corps since President Kennedy created the federal agency in 1961.
The NPCA launched the MorePeaceCorps campaign in response to both presidential candidates' pledges to make voluntary national service an important part of their campaign platforms. When asked on the ABC daytime talk show "The View" what he would do if elected, Senator McCain said, "I would expand the Peace Corps ... I would expand all opportunities to serve." For his part, Senator Obama has pledged doubling the Peace Corps by 2011.
Kevin Quigley, President of the NPCA, who served as a volunteer in Thailand (76-79), summed up the effort this way: "Almost 50 years ago President Kennedy sounded a clarion call to serve; many answered by joining the Peace Corps. In this election, Senators McCain and Obama are echoing that call to service. We launched the More Peace Corps campaign and the 100 House Parties to help all of us answer that call."
According to Goyal, the bipartisan support for expansion of the Peace Corps, and national service in general, stems from a realization that Peace Corps Volunteers may be the United States' best ambassadors. Service is an American tradition. "Americans would be surprised to learn that this country sends just 4,000 volunteers overseas, compared to 8,000 40 years ago when the population of the United States was half what is today," Goyal said. "Americans are eager to serve at home and abroad. They just need the opportunity."
"Now, more than ever, we must remember why the Peace Corps is so important: because the Peace Corps and its volunteers not only help those in need, but also help build bridges of mutual understanding and trust, foster pro-American sentiment, and in turn strengthen America's national security and national interests," said Senator Chris Dodd, who served as a Peace Corps Volunteer in the Dominican Republic and serves as Chair of the Senate Foreign Relations Subcommittee on the Western Hemisphere, Peace Corps, and Narcotics Affairs. "We must ensure that the Peace Corps continues to attract new volunteers of all ages who will help carry on this organization's long legacy of service. That is why I have introduced the Peace Corps Volunteer Empowerment Act, which would encourage more input from current and returned volunteers, bring the Peace Corps into the digital age, and eliminate barriers that may discourage older individuals from becoming Peace Corps volunteers."
"America and the world face major challenges due to growing demand for energy and food supplies, and from dislocations caused by climate change, failed states and ethnic conflicts," stated United States Senator Richard G. Lugar (R-IN), the Ranking Member of the Senate Foreign Relations Committee. "Continuing to expand the Peace Corps is a critical component of our policy to address these challenges."
In addition to Dodd and Lugar, MorePeaceCorps supporters include writers Paul Theroux (Malawi 63-65) and Peter Hessler (China 94-96), former President Jimmy Carter, former U.S. Senator Harris Wofford and a variety of former Ambassadors, business leaders and other prominent individuals have lent their names to support the campaign.
Said Quigley, "The effort to double the Peace Corps and to improve it in other ways is important. The 100 House Parties are a great way to demonstrate support for this goal, connect with others who understand the importance of the Peace Corps, and to discuss practical ideas about how working together we can build a bigger, better and bolder Peace Corps."
For more information about MorePeaceCorps, visit http://www.MorePeaceCorps.org.
# # #