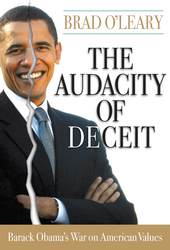 The Audacity of Deceit: Barack Obama's War on American Values
Washington, DC (PRWEB) September 8, 2008
With the conventions over, the political debate shifts into the nation's bookstores this week as two competing books go head-to-head in a battle that could impact the race for the White House. One is written by candidate Barack Obama, while the other contains new revelations that might end the Illinois senator's presidential aspirations.
"The Audacity of Deceit: Barack Obama's War on American Values" by Brad O'Leary (WND Books, ISBN 978-1935071020, hardcover $25.95) hits bookstores tomorrow, the same day as Obama's new campaign book, "Change We Can Believe In."
Shielded from the media by a strict embargo, the contents of "The Audacity of Deceit" have been a well-kept secret. A limited number of advance copies were mailed out to the media late last week. The cover provides a contrast to Obama's previous book, "The Audacity of Hope," and features a rendering of the subject's official Senate portrait.
"It's been noted that Barack Obama has written multiple books and no major legislation, but that's not a coincidence," says O'Leary. "He's tried to hide his true beliefs from the American people behind soaring oratory promising 'hope' and 'change,' but that's just a smokescreen, and one that's been very effective. Until now."
While other books on Barack Obama have raised questions about the candidate's past, "The Audacity of Deceit" goes further by uncovering new information about the candidate's disturbing history and secretive political agenda. Among the shocking revelations in this book:

The truth about Obama's personal relationship with Bill Ayers, and the financial ties that link him to the former Weather Underground terrorist.
Extensive details about Obama's plan to increase the federal government's involvement in child-rearing while at the same time increasing the tax burden imposed by Washington.
Exclusive polling from Zogby America that reveals the extent to which Obama's hidden political beliefs are at odds with the American people, and that his support in the polls depends overwhelmingly on voters who don't pay federal income taxes.
"Brad O'Leary has written a book that will shed new light on a public figure who's enjoyed a meteoric rise with little scrutiny," notes Eric M. Jackson, president of WND Books. "We're thrilled that it will debut head-to-head against Senator Obama's own book. When the dust settles, we think 'The Audacity of Deceit' will be the defining book on his candidacy."
A veteran writer and former talk radio host, Brad O'Leary is also the author of "Presidential Follies" and "Triangle of Death." He produced the award-winning television special "Ronald Reagan: An American President," and is the chairman of PM Direct Marketing and president of ATI-News.
"The Audacity of Deceit" will be available in stores on Tuesday. The controversial tome is being stocked by retailers nationwide, including Barnes & Noble, Amazon.com, Borders, Books-A-Million, Waldenbooks and others. It is also a main selection of the Conservative Book Club.
A national marketing campaign to promote the book--including print and television advertisements--will be rolled out later this month. Readers are being offered the opportunity to download a free chapter of the book at http://www.audacityofdeceit.com.
Contact Information:
To interview Brad O'Leary, contact Sandy Frazier by calling (516) 735-5468.
About WND Books:
WND Books is the publishing division of WorldNetDaily.com. Founded in 1997, it is the Internet's leading independent news site, online at http://www.wnd.com.
###