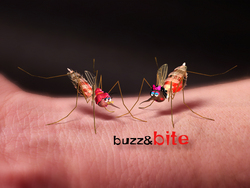 Ottawa, Canada (PRWEB) September 7, 2008
Nigeria has become the first country in the world to play the Buzz and Bite malaria prevention campaign on television.
The Buzz and Bite Campaign is the creation of Canadian animation producer and director Firdaus Kharas, working with a team of skilled professionals. The series was launched in Ottawa and at the United Nations by Mr. Kharas in advance of the first World Malaria Day, April 25, 2008.
Mr. Kharas said: "I am very pleased that Nigeria has led the way. Nigeria is Africa's most populous country with 97% of the population considered at endemic risk for malaria. The transmission of malaria occurs in the entire country. Thirty-seven species of Anopheles mosquitoes have been identified in the country. Over 250,000 Nigerian children die of malaria each year. The Buzz and Bite Campaign complements the many efforts in Nigeria underway to control and prevent malaria infection."
The Buzz and Bite malaria prevention campaign consists of 30 animated Public Service Announcements (PSAs) or spots that provide to the viewer a variety of information about the transmission and prevention of malaria. In addition to the 30 spots created for malaria prevalent countries, two spots have been created to encourage non-malaria prevalent countries to buy long-lasting insecticide-treated bed-nets for malaria at-risk populations.
The PSAs are available to any television broadcaster, radio station, NGO, hospital, doctor, community group, university, school, educator or other user, anywhere in the world, free of charge. A comprehensive website, http://www.malariacampaign.ca, has been developed where copies of tapes and DVDs of The Buzz and Bite Campaign can be requested online. One PSA can be viewed online in all 22 languages completed.
The PSAs are being adapted into many languages. The goal is to enable a potential reach of 80% of the world's malaria at-risk population or over 5 billion people in their own language. The Buzz and Bite malaria prevention campaign is currently available in 22 languages, from Afrikaans to Tagalog. In all, 662 PSAs have been already created.
The campaign is strongly supported by Nobel Laureate Archbishop Desmond M. Tutu who has written an open letter which he calls "an impassioned plea".
In Africa, one child dies every 30 seconds from malaria. Each year, between 350 million and 500 million people are infected with malaria around the world. Even though malaria is preventable and treatable, it currently threatens over 40 per cent of the world's population. The majority of deaths from malaria are young children and pregnant women in sub-Saharan Africa. There is no vaccine against malaria; the best defence is prevention.
Firdaus Kharas:
Firdaus Kharas has been publicly acknowledged as a "world renowned" director and producer of animation, film and television media. His current work focuses on creating various types of media to affect societal and individual behavioural change through mass communications. These media initiatives have a universal appeal in that they span many cultures and countries to better the human condition.
In the last three years, Mr. Kharas' media work has garnered 60 international awards. These include the Peabody, CINE Golden Eagle, Telly, Platinum Remi, Chris, Hugo, Golden Reel, Gold World Medal in New York and First Prize at the Chicago International Children's Festival.
Mr. Kharas, who is Ottawa-based, owns and operates Chocolate Moose Media Inc. Further information can be found at http://www.kharas.ca.
For additional information and interviews, please contact:
Kita Szpak, KS Communications.
Tel: (1) 613-798-8333 or (1) 613-725-3063
E-mail: contactkita@rogers.com or kita@sympatico.ca
Firdaus Kharas
Tel: (1) (613) 820-6121
Fax: (1) (613) 820-4679
# # #