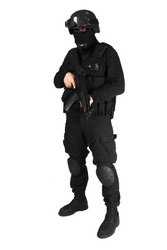 We have partnered with Alper-Gold to ensure that we have a professional retailing organization handling our web sales
San Antonio (PRWEB) September 8, 2008
In response to the soaring demand for Original SWAT footwear, Alper-Gold eCommerce launches the official retail website for the brand, Original SWAT.
Alper-Gold's latest Web presence is a cohesive blend of retail and utility. OriginalSWAT.com is an informational resource for their line of wildly popular SWAT boots and tactical boots. Original SWAT Online transitions, seamlessly, into a storefront for the industry-recognized brand.
Original SWAT would turn to Alper-Gold eCommerce, operators of CopShoes.com and TacBoots.com, to take charge of this new endeavor.
"We have partnered with Alper-Gold to ensure that we have a professional retailing organization handling our web sales," said Terry Mackness, CEO of Original Footwear INC, "This will make the transaction experience for the consumer both seamless and satisfying."
In an effort to better serve the customer, navigation between Original SWAT and Original SWAT Online has been interwoven; if the customer is prepared to place an order at OriginalSWAT.com, they are directed to that product's page at Original SWAT Online to complete the transaction. Both websites also share similar thematic and visual elements to uphold company branding and ensure the authenticity of Alper-Gold's latest retail storefront.
"Our relationship with Original SWAT goes back to my Grandfather and Great Uncle, and I am proud to see it strengthen and grow," said Brian Gold, VP of Alper-Gold eCommerce, "Our goal is to provide the best possible experience for our customers, and everyone from the warehouse to customer service to management is committed to that goal."
Original SWAT Online was created as an ultimate resource for a renowned brand of tactical boots, SWAT boots, and combat footwear. The concept of creating an online retail presence for the Original SWAT line of footwear was one that now allows its loyal customer base, and even those unfamiliar to the product, to discover and purchase, effortlessly.
About Original SWAT Online:
OriginalSWATOnline.com is operated by Alper-Gold eCommerce under license from Original Footwear, Inc, manufacturers of the Original SWAT line of tactical boots and combat footwear. Alper-Gold eCommerce also owns and operates the retail storefronts Copshoes.com and TacBoots.com, and is the only authorized online distributor of Original SWAT products. Original SWAT Online can be contacted by phone at 888.988.SWAT, or on the Web at: http://www.OriginalSWATOnline.com
About Original SWAT:
Original SWAT originated in 1999 with the goal of building a "better boot". It was a formula that was tested and perfected into combat and tactical boots that are worn and highly regarded by loyal wearers, the world over. Original SWAT can be contacted by phone at: 888.476.7700, or on the Web at: http://www.OriginalSWAT.com
###