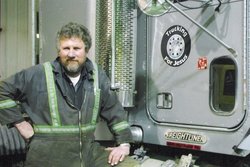 TV's Hottest Manly Men
Gardiner, ME (PRWEB) September 11, 2008
Step-Hi Promotions has announced that internationally acclaimed Ice Road Trucker Alex Debogorski is coming to the U.S. in the near future, and will be available for appearances.
The tough-living, hard-working Debogorski has appeal that suppresses all boundaries, said promotional agent Stephanie Fletcher of Step-Hi Promotions.
"He draws a crowd around him where ever he goes, as he is loved by men and women, old and young," Fletcher said of Debogorski, who was featured in a People Magazine photograph under the heading "TV's Hottest Manly Men" in March 2008. "With his gregarious personality, and a laugh that makes you feel like you have known him all your life, Alex will inspire you with his strong faith and great story telling."
Fletcher said that Debogorski is an excellent speaker to both children and adults.
"When Alex speaks of his work, or his life in Yellowknife, Canada near the top of the world, people listen as it is so uniquely different than what most of us have experienced. Some just simply want an autograph," Fletcher said.
He recently spoke to a class of elementary students in Ireland through video conferencing at their request for questions and answers on ice road trucking.
A dedicated family man, Alex has been married for 33 years to his wife Louise. Together, they have 11 children and eight grandchildren with more on the on the way. His goal is to see 100 grandchildren.
"We are very proud to have Alex as part of our wonderful team," Fletcher said. "If you would like more information or want to book him for any appearances for your business, school or public function, please don't hesitate to contact us."
However, said Fletcher, he will not be here long.
"It will soon be that time of year again when he must return to truck on the ice roads," she said.
Contact:
Stephanie Fletcher at STEP-HI Promotions
Telephone: 207-622-5602
FAX: 888-574-2165
Postal address: P.O. Box 752; Augusta, Maine 04332 USA
e-mail: askme @ step-hipromotions.com
http://www.step-hipromotions.com
###