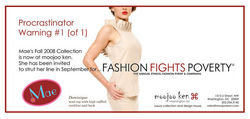 because collaboration is part of the fun.
Washington, DC (Vocus) September 7, 2008
Mae's clothing designs feature dreamlike updated retro cuts that gently and quickly transport you away to another time. A wool jacket with puffy long sleeves might remind you of another life you once lived as a journalist in a far away land—you remember hailing a taxi in that jacket—it was a chilly day. A silk crepe dress with ruffled sleeves and neckline escorts you to the time you were picnicking with your love under a lacy parasol while geese floated by and the nearby white wine bubbled.
And that is exactly what each piece by Mae does. It evokes an immediate poetic response and transports you to an alternate scene where a complete set of sensory delights can unfold. In these little time machines can be found rich imagination, simple grace, and quiet power. Appropriate for office, evening, and events.
For all of these above qualities, Moojoo Ken selected Mae for its Washington, DC retail storefront on U Street. "Her style is perfect for our professional city, which is learning to appreciate various levels of drama in their attire. Of course, we are on hand to escort our clients out of their comfort zones whenever possible, so we will marry our own line of vivacious shoes, handbags and scarves with Mae's subtle silhouettes for stunning combinations," says one Moojoo Ken owner/designer, "because collaboration is part of the fun."
For Mae's elegant execution and responsible manufacturing efforts, Fashion Fights Poverty (FFP) invited her to strut her line on the runway in September. Moojoo Ken will contribute 60 of their own 100% twill silk scarves to the benefit, in the Chinatown, Penn Quarter (pictured), and Embassy Row patterns.
# # #