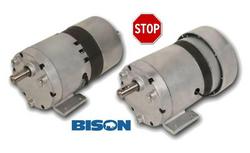 With either open or enclosed fan-cooled construction and foot or face mounting, this is a versatile, excellent value gearmotor design that fits perfectly into such applications as conveyors, automated displays, rotisseries and other restaurant and foodservice equipment
St. Charles, IL (PRWEB) September 8, 2008
Many OEM applications require the use of a fail-safe brake, which operates on the power-"off", brake-"on" principal. To fulfill that requirement, the new fractional horsepower parallel shaft VWDIR08 and VWDIR88 gearmotors from Bison Gear & Engineering Corp. represent a safe, long life, value solution with their dependable, unidirectional shaded pole motors. Designed as Von Weise Drop-In Replacements, the Bison VWDIR08 and VWDIR88 gearmotors are available in 14 standard models. With gear ratios from 27:1 to 750:1, fixed output speeds range from 2 to 60 RPM, with output torques from 42 to 113 in-lbs. These Bison drop-in replacements for VW08 and VW88 gearmotors feature UL and CSA recognized 1/10 and 1/20 hp shaded pole motors with clockwise rotation and 115 Volt, 60 Hertz input as standard. The gearmotors are grease lubricated for long life and all-position face or foot mounting with a 150 lb. overhung load rating. In addition, the shaded pole electric motors can be speed controlled with a simple, inexpensive triac drive.
"With either open or enclosed fan-cooled construction and foot or face mounting, this is a versatile, excellent value gearmotor design that fits perfectly into such applications as conveyors, automated displays, rotisseries and other restaurant and foodservice equipment," said John Burch, Bison Gear Regional Sales Manager. "By design, shaded pole motors offer the fail-safe feature of starting in only one direction. That feature is further enhanced by the optional fail-safe brake available on the open motor designs. The shaded pole AC motor's running efficiency will increase with load, while also offering relatively constant speed with variations in load. These motors have no internal switches or brushes and are, therefore, ideal for continuous duty application."
Manufactured in Bison Gear's St. Charles, Illinois facilities to the highest quality standards to ensure dependable, long-life operation, Bison's new VWDIR08 and VWDIR88 gearmotors are supported by Bison's Innopreneurial(TM) application and design engineering capabilities to customize standard models to meet specific OEM needs.
The VWDIR08 and VWDIR88 AC gearmotors are part of the expanding Bison Gear line of Von Weise Drop-In Replacement gearmotors, which encompasses over 75 standard models.
About Bison Gear & Engineering Corp.:
Founded in 1960, Bison Gear & Engineering Corp. designs and manufactures fractional horsepower electric motors, gearmotors and gear reducers used in industrial and commercial OEM applications worldwide. Bison's strong engineering tradition, based on Robusticity (TM) principles, offers products with up to twice as much torque in the same package size as competitors. Bison employs over 270 associates in its St. Charles, Illinois facility which produces gearmotors and reducers in parallel shaft and right angle configurations, as well as AC and DC electric motors, for applications where dependability and long lifetimes are important.
###