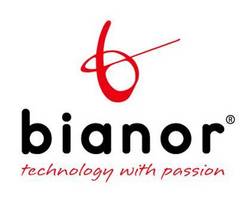 Through our proven mobile service platform we provide the infrastructure our customers need to achieve seamless integration between mobile handsets and server-side applications
Uniondale, NY (PRWEB) September 9, 2008
Bianor Inc. announced the release of the second edition of their mobile service delivery platform, MobiSDP, enabling rapid development and deployment of high-performance mobile multimedia and communication applications and services.
MobiSDP is designed to accelerate the development of mobile solutions. By using MobiSDP mobile developers will be able to reduce the development effort in half when compared with conventional development platforms. MobiSPD is already deployed in several major mobile networks and used as foundation to many mobile applications developed by Bianor and its partners.
"Through our proven mobile service platform we provide the infrastructure our customers need to achieve seamless integration between mobile handsets and server-side applications," said Bianor's CEO Stefan Lilov. "The second edition of MobiSDP provides extended base functionality and higher flexibility. The platform provides extended device support, including iPhone in addition to the latest version of Symbian," Lilov added.
MobiSDP enables easy development of mobile user interfaces and integration through industry standards with server-side components implementing the business logics of the service. The platform adds extra value in development of complete business solutions for content providers and those who need to export their existing services to the mobile world. Some features of the new platform include data sync, security and identity management, data push, web service integration, SIP integration, and client monitoring.
The release of MobiSDP comes in line with Bianor's strategy to offer new solutions and innovative services for mobile industry.
About Bianor:
Bianor is a full-service software product engineering company leveraging leading-edge software and telecommunication technologies to transform its customers' vision into market-ready software products. The company provides software product engineering, quality assurance and IT consulting services to customers across Europe, USA and Japan. Bianor is ISO 9001:2000 certified and CMMI compliant. Bianor is a business partner of a number of leading IT companies, such as IBM, Sun Microsystems and RedHat.
For information:
Georgi Lazarov
tel.: +1 (516) 833-3300 ext 3703
###