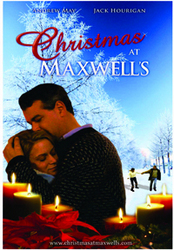 Cleveland, OH (Vocus) September 8, 2008
William Laufer announced today that Swank Motion Pictures will continue to represent Laufer Film for non-theatrical distribution of "Christmas at Maxwell's", its new PG HD feature.
"We were very pleased with Swank's work last year. Christmas at Maxwell's was shown on a number of major university college campus TV stations. We were excited to be able to connect with these students. Christmas at Maxwell's is based on a real life story and its issues of faith, hope and love are what students talk about everyday. Swank helped us connect with other groups as well, for example, cruise audiences. Christmas at Maxwell's has resonated with numerous groups to include women's groups, college students and seniors. Swank helped us make those connections."
Please contact Sharon Rippe, Vice President Swank Motion Pictures, Inc. (314) 984-6120 (314) 909-0879 / 10795 Watson Road St. Louis, MO 63127 USA, or email srippe @ swank.com.
Christmas at Maxwell's has received critical and audience acclaim and is quickly becoming a classic holiday movie, and has been awarded the Dove Foundation Award. This Award winning PG-rated holiday film is connecting with audiences young and old.
Please see an EPA Press Kit at http://www.christmasatmaxwells.com/press-kit-epk/PK-LG.pdf. The producers are also available for on-air interviews - contact LauferFilm.com at (216) 229-4444.
LauferFilm.com was founded in 1996 by Georgetown University grads Bill and Tiffany Laufer. They are a father - daughter film team. For additional info, check http://www.lauferfilm.com, http://www.christmasatmaxwells.com, and http://www.imdb.com/title/tt0420550/.
###