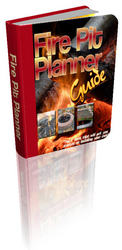 no one had any idea that there were literally hundreds of grill masters out there that really wanted to build their own unique fire pit, and all they asked was a basic idea and fire pit plan to get the basics out of the way, the rest didn't matter to them - they want their own design in their own garden, and that makes sense
Limassol, Cyprus (PRWEB) September 10, 2008
http://firepit-plans.com and its new informational electronic guide "The Fire Pit Planner Guide" are offering a unique perspective on outdoor features to the late summer barbecue enthusiasts and people who enjoy the outdoors. Fire Pit Planner guide's 40 pages of detailed explanations and a multitude of advice and tips, this fire pit plans builder guide can do wonders for those who have used simple barbecues all their lives but aspired for much more. Among the chapters in this guide you can find maintenance tips, building basic advice and ideas, detailed graphic illustrations of fire pit design ideas, safety tips and even some open flame barbecue cooking ideas and tips.
This guide was born out of simple necessity, the idea of providing inspirational graphics and information about constructing fire pits in gardens and backyards to avid barbecue lovers was created because of the flow of on line requests for fire pit plans and fire pit design ideas, these requests came from people who were tired of the same old charcoal barbecue design or the outdoor kitchen unit in their garden.
"The Fire Pit Planner Guide" started as concept site with 3-4 pages of some rough design thoughts about an outdoor stone or brick fire place unit, mostly as a outdoor feature that will compliment the garden and put it into some use during the cold winter months. "At first we just thought about how to tell people that they can build some kind of fire feature elements in their gardens and use it when they have guests in their living room, or just as a nice romantic view" says one of the two creators of the site, "no one had any idea that there were literally hundreds of grill masters out there that really wanted to build their own unique fire pit, and all they asked was a basic idea and fire pit plan to get the basics out of the way, the rest didn't matter to them - they want their own design in their own garden, and that makes sense".
Already making its big break into the fire pit world, the fire pit planner guide has already made some fans around the globe, from Europe and the mid east to Florida and California it seems like the barbecue and DIY enthusiasts are responding with excitement to this new idea, some already sending feedback and ideas back to the creators of the fire pit planner guide, so it can be upgraded and updated in the future.
###