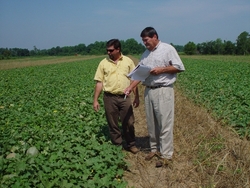 I've tried other pollination products and bee attractants
Omega, GA (PRWEB) September 16, 2008
Cantaloupe grower Steve Sumner was born and raised in Georgia's melon country. Handling melons since he was a youth, Sumner knew this season's high winds and extreme heat spelled trouble for crop yields on his 4000 acre farm.
"Bees won't pollinate as effectively leaving fewer and sub-par quality fruit," says Sumner. "Conditions were going to impact my crop yield if I didn't step in with a solution. To ensure a profitable crop, I applied Stoller's Flower Power to my fields."
In return Sumner experienced a good fruit set and large, uniformly sized melons. A cursory count in one field indicated a harvest of 13,500 to 14,000 premium quality melons per acre. Sumner estimates a 15-20% yield increase over last year's crop and attributes much of that to Flower Power™.
"I've tried other pollination products and bee attractants," explained Sumner, "but I think Stoller's Flower Power is one of the best products out there."
Flower Power is a complex micronutrient with Growth Enhancing Co-Factors that allow continued movement of auxin to the flowering part of the plant. It helps maintain later developing flowers and holds more flowers and fruit, improving the physiological properties of the fruit and overall plant growth.
"Flower Power naturally increases the level of auxin in all flowers, increasing their ability to self-pollinate," explains researcher Dr. Orzolek, Ph.D. of Penn State University. "This, in turn, will increase the consistency and yield of crops."
As honey bee populations are threatened, Flower Power is projected to become a significant benefit to crop producers and bee keepers.
"We take a unique approach to crops," explains CEO and world-renown agronomist Jerry Stoller. "Our technology considers the factors that impact a plant's growth cycle and works to maximize genetic expression for improved quality and maximum yield. Our products focus on how to maximize the genetic expression and maximize profits for growers."
Whether it's extreme temperatures or low bee populations that are impacting crop yield, Flower Power offers a safe, versatile means to fortify crops, protecting yield potential and increasing ROI for growers.
In agribusiness for nearly 40 years, Stoller markets a full line of products to help growers increase crop yield and quality. StollerUSA, headquartered in Houston, is actively researching and developing micronutrients and other products in more than 50 countries. For more information, please visit http://www.stollerusa.com.
# # #