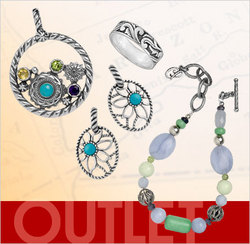 This is a move of epic proportions
Albuquerque, NM (Vocus) September 9, 2008
Relios Inc., designer and manufacturer of sterling silver and natural gemstone jewelry, is announcing its "Corazon™ Initiative". The jewelry maker is moving a large amount of inventory – including many designer collections – into its clearance jewelry category. In our current economic environment, pricing is extremely important across all income groups, and Relios seeks to cater to this changing need by offering a wide selection of discount natural stone jewelry.
Low Risk – Increased Sales Volume
"This is a move of epic proportions", says Bill Pollack, President of Relios, Inc. "It's the first time in 20 years that we've moved this much product into clearance status, and definitely a first for so many of our popular designer pieces. In a difficult economy, and with the holidays just around the corner, we know that consumers are holding onto their wallets a little tighter these days. It doesn't mean they're not spending, it just means that they're looking for bargains now more than ever. This clearance pricing offers consumers a great opportunity; it lets them make purchases of top quality jewelry within their comfort zone."
Three ways to take advantage of the Relios Overstock!

Independent Retailers can go online and immediately access the best selection – but hurry – items are priced to sell and are in limited supply. Promotional support is available in the form of printable posters and easy-to-send e-cards.
Major off-price retailers can request a catalogue with available quantities on clearance jewelry styles. Special pricing may be available for "take-all" offers. New retailers welcome!
Major Direct Marketers can feature clearance items, with the added advantage of having Relios drop-ship product directly to their customers. (Approved retailers only).
"Corazon™ really embodies the heart of Relios - representing jewelry from all of the distinctive Relios collections", says Paula Giles, Relios Sales Specialist. "Women love deals, and Corazon™ makes it fun to pick out lots of bright colors and playful discount beaded jewelry designs – at a price that really fits their pocketbook! Since so much of it is recently retired, the jewelry styles are up-to-date, so these looks are virtually 'recession-proof'."
Added inventory creates another first for Corazon™ by Relios
In addition to moving many designer pieces into Corazon™, Relios is also building new products from many in-stock components to add to the collection. This is the first time Corazon will offer brand new original pieces to the super low-priced selections, so retailers will also be able to get bargain basement pricing on brand new designs as well. Because these styles are no longer in production, orders should placed today for the best holiday gift selection.
About Corazon™
The Corazon™ collection represents a wide variety of the very heart of Relios jewelry. Corazon™ is our clearance collection, 40% to 70% off, so expect to find incredible prices for exceptionally high quality and distinctive designs. Each piece is carefully crafted with sterling silver and gemstones.
About Relios, Inc.
Relios Inc. designs and manufactures more than 100 new items per season in Albuquerque, New Mexico. Their moderate to upper price point jewelry can be found online at http://www.ReliosWholesale.com. Jewelry by Relios is made from natural stones and reclaimed sterling silver right here in the USA.
For more information, please contact Kelly Walter at (505) 345-5304 ext. 201
###