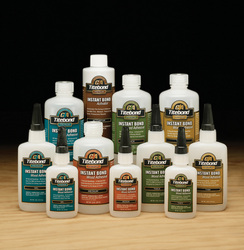 With Instant Bond, we now can provide cabinetmakers the level of speed and ease they need in certain applications to achieve maximum productivity.
Columbus, OH (PRWEB) September 10, 2008
Now, woodworkers can turn to the trusted Titebond brand for a powerful adhesive that sets in as little as five seconds and cures in only 30: Titebond-manufacturer Franklin International has introduced its fastest-setting wood adhesive ever, new Titebond Instant Bond.
Instant Bond is a powerful two-part, ethyl-based cyanoacrylate (CA) adhesive, more familiar to many as super glue, that offers nearly instant adhesion capabilities - especially when applied in combination with Instant Bond Activator, a heptane-based bonding accelerator that halves set and cure times. The ability to set and cure in a flash makes Instant Bond the easy choice for hard-to-reach joints or surface areas that are difficult to clamp.
Instant Bond is as noteworthy for its versatility as for its speed of set. For starters, it is specially formulated to neutralize acidity on virtually any type of wood, thereby providing an exceptionally uniform, durable bond. At the same time, it can be used on a host of materials other than wood: Instant Bond joins substrates from aluminum to PVC, from porcelain to stainless steel.
Further, versatile Instant Bond comes in four viscosities to meet particular applications and MIL specifications. Viscosities are color-coded to easily identify which formula to use on a specific application within the cabinet shop:

Thin, for bonding hairline cracks in wood, as a wood finish or to repair loose veneer edges
Medium,to bond miniature moldings, model airplanes or pen tubes to pen blanks
Thick, to bond jigs and fixtures, miter joints for crown moldings or granite countertops
Gel, for use in cabinet installation, to fill gaps, or to bond MDF and other porous woods.
Set and cure times vary by viscosity. When used in conjunction with Instant Bond Activator, an accelerator developed exclusively for use with the newest Titebond product, Instant Bond achieves set times of five to 30 seconds and cure times as quick as 30 to 60 seconds.
Instant Bond is distinguished for its two-year shelf life and waste-reducing no-clog applicator. Strength of over 4,000 psi, high impact-resistance and service temperature range from -65 degrees to over 200 degrees Fahrenheit render this quick-bond formula extremely durable over the long term, too.
"Franklin is committed to providing the best solution for meeting specific needs in the cabinet shop," said Heather Dages, market manager for cabinet shop glues at Franklin. "With Instant Bond, we now can provide cabinetmakers the level of speed and ease they need in certain applications to achieve maximum productivity."
Titebond Instant Bond Wood Adhesive is available in two-, four- and eight-ounce bottles. Titebond Instant Bond Activator]is offered in two- and eight-ounce pump spray bottles.
For more information on Titebond Instant Bond Wood Adhesive, visit http://www.titebond.com or contact Franklin International's Technical Support Team at 1-800-347-GLUE (4583).
About Franklin International:
Based in Columbus, Ohio, Franklin International was established in 1935 and today is among the largest privately held manufacturers of adhesives and sealants for commercial and industrial applications. Best known for its Titebond® brand, Franklin integrates its core competency, emulsion polymerization, into a broad product offering, including glues, adhesives, hot melts, binders, films, sizing compounds and more. These products are distributed globally for use in construction, furniture manufacturing, millwork, paper converting, pressure-sensitive paper products and fiberglass reinforcement.
###